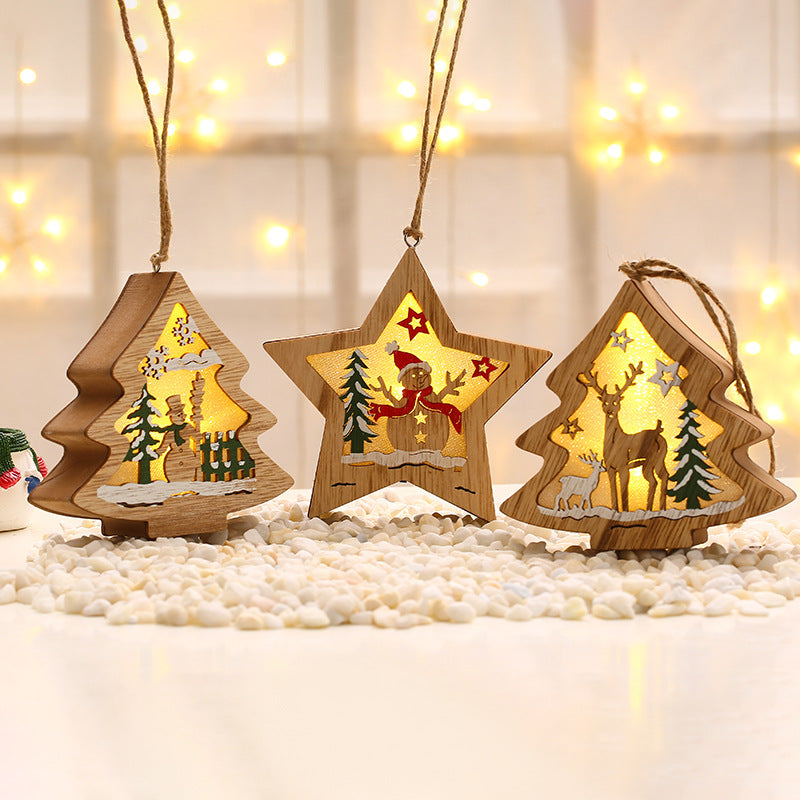 Wooden Christmas Tree Ornaments
Decorate your Christmas tree with the charm of the Christmas Forest Elderly Wooden Luminous Pendant. These delightful ornaments add a touch of warmth and festivity to your holiday decor.
Product Information:
Quality: Crafted from high-quality materials, these ornaments are safe, non-toxic, and lightweight. They are easy to hang and come in suitable sizes to enhance your Christmas tree decoration, making your home even more inviting.
Hanging Decorations: The designs feature various Christmas elements, offering a variety of styles that capture the essence of a winter Christmas. Hang them on your Christmas tree to fulfill all your holiday decoration desires.
Application: These ornaments are versatile and can be used to adorn Christmas trees, beds, staircases, fireplaces, walls, windows, or any place where you want to infuse some Christmas spirit and fun.
Decoration: With Christmas approaching, these pendants make for perfect additions to your gift wrapping or can be given directly as gifts to children or friends. They are incredibly cute and endearing.
Product Details:
Material: Wood
Color: Polychromatic
Category: Christmas Decorations
Technology: Laser
Specifications: Tree-shaped old man, tree-shaped snowman, tree-shaped deer, five-star snowman
Enhance the magic of your Christmas celebration with these Wooden Luminous Pendants, adding warmth and cheer to your holiday festivities.
Our Shipping normally takes between 5 to 7 business days.

During the current COVID-19 pandemic we may experience longer shipping times than normal. If your order is affected by this we will let you know as soon as we can about this.
We are also currently experiencing some stocking issues due to the global shipping issues. We apologize if we are unable to fulfil any orders due to this.

We use calculated shipping to work out our shipping costs. These will be presented at checkout. We have special discount rates being applied to keep your shipping cost as low as possible.