Valentine's Day Surprise: Romantic Outdoor Dinner Date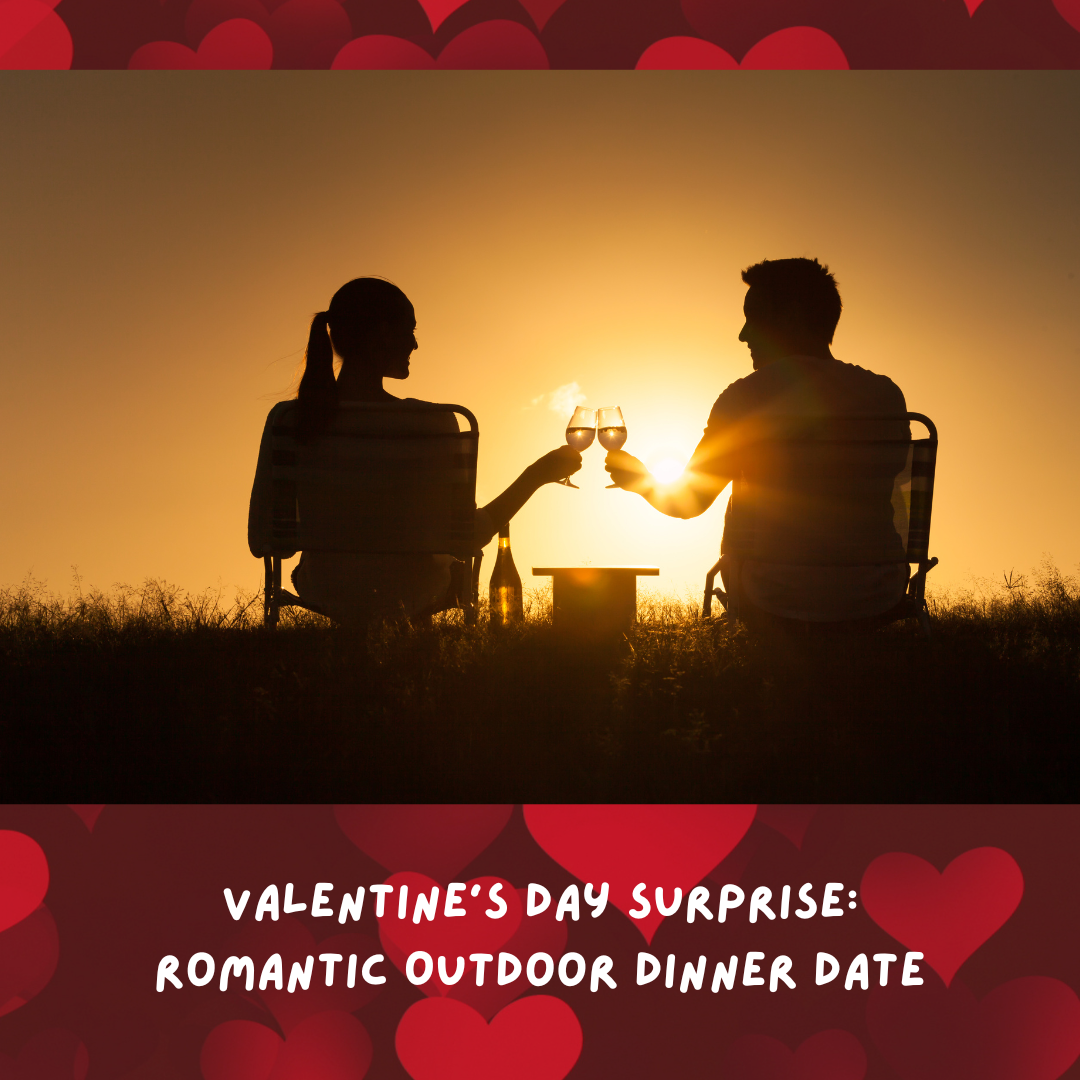 Valentine's Day is synonymous to surprise, dinner date, romance, flowers, and chocolate. This year, make your celebration of the heart's day extra special with your partner as we guide you on how to give a memorable surprise dinner date on your own outdoors. 
The past years have closed restaurants, cafes, bars, and lounges which ensures that everyone would flock to them this year to celebrate Valentine's Day. But do not worry because you can still celebrate from the comfort of your outdoors. Let us guide you on how to take advantage of your backyard, garden, patio, or terrace this Valentine's Day.
Outdoor Dinner Setup
To enjoy your Valentine's Dinner date, you may cook your and your partner's favorite sumptuous meal. Choose a dish or two that you both will enjoy. A delicious meal cooked with love is sure to be more memorable than any restaurant experience. Plus, you are guaranteed the privacy and intimacy that you and your loved one deserve without all the noise of a crammed restaurant.
Visit us here today and choose the perfect outdoor furniture for your outdoor dinner date.
https://daisys-choice.com/collections/outdoor-patio-furniture 
Flowers
Roses, Purple Orchids, Rose Lilies, Tulips, Carnations, and Daisies are some of the all-time favorite flowers for Valentine's Day. A Valentine's Day celebration is not complete without flowers and make sure to pre-order ahead of time to make sure that you do not run out of the freshest flowers for that special day. Make sure to place your order at least a week to choose and still get the best deals, arrangements, and packaging for your flower bouquet.
Chocolates
Same with flowers, chocolates are a Valentine's Day staple to add sweetness to your relationship. 
Did you know that a heart-shaped box of chocolate is a sign of love, a symbol of romance, and an essential part of Valentine's Day? It is reported that from at least the time of the Aztecs, chocolate has been seen as an aphrodisiac!
Music
Set the mood with the perfect music all throughout your romantic outdoor dinner to make your dining more romantic and memorable. Put together songs that are memorable and have a special meaning in your relationship and play them in the background. You may also choose some of the best love songs, and sultry Jazz music and add them to the playlist. It is easier nowadays to create a playlist of your favorite songs with many music apps like Spotify, Youtube Music, Shazam, or apple Music. Gone are the days when creating a music playlist takes hours or days. 
Lighting
To also set up a romantic mood, go big and go all out in setting up lighting in your garden, patio, terrace, or backyard. Hang string lights and garden outdoor bulbs in warm colors. Adorn the sides of your walkways with battery-operated candles to make your partner feel like royalty as they walk towards your dining set up. 
Do not forget to light real candles and set them in safe areas, but do you know that there are battery-operated candles that also have flickering lights and look so real and these are perfect to adorn your table? 
Bonfire
February is one of the coldest months and it makes Valentine's Day more romantic as you can enjoy time in front of a  bonfire or fire pit in your outdoors to stay cozy and warm while snuggling with each other after your sumptuous Valentine's dinner. 
Visit us here to and take advantage of our best-selling affordable outdoor fire pit collection: https://daisys-choice.com/search?q=fire+pit 
Wine Tasting
Toast to your favorite wine while waiting for dinner to be served or after your meal. Cheers to more years of love with your partner. Town and Country magazine listed the 12 Top Wines for Valentine's Day here:  http://bit.ly/3GPzML3 
Backyard Camping
Set up a tent or a hammock in front of your bonfire or fire pit where you can snuggle and enjoy star gazing after your romantic dinner. 
Enjoy the hum of birds, the chirping of crickets, the rustling of leaves as they dance in the wind, and the crackling of fire from the fire pit. These natural sounds are a gift from nature and you can enjoy them for free!
Bonus
Fireworks
If your budget, local guidelines, and weather allow, capping off the night with a fireworks display is definitely the ultimate way to end your Valentine's Day celebration. 
Happy Valentine's Day! Love, daisys-choice.com   ❤