Using Rustic Farmhouse Decor To Give Your Home A Unique Look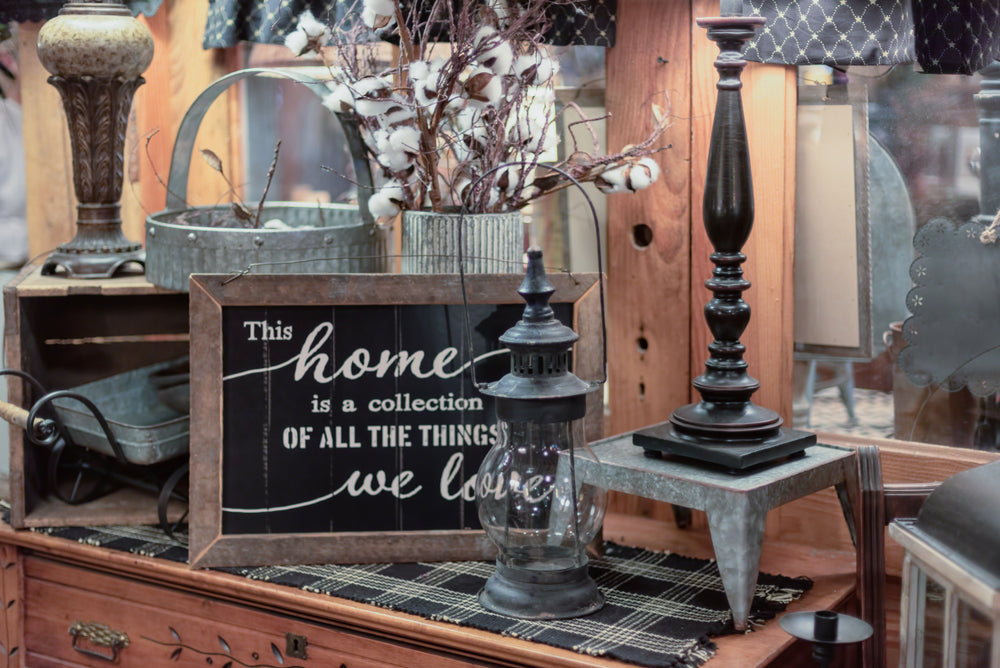 Using Rustic Farmhouse Decor To Give Your Home A Unique Look
There's something homely and relaxing about the rustic farmhouse look, and you don't need to live down a leafy country lane to achieve this look. You can use some new designer pieces or upcycle furniture you already have and give it a rustic farmhouse twist. We'll start in the kitchen, which is always the heart of any home.
Kitchen Ideas
With a rustic farmhouse kitchen, we need to cast our minds back to those old farmhouses with wooden beams, natural flooring and an inherited mix of practical furniture, china, pots and pans or thrift store china. Of course, not many of us are lucky enough to have old beams, or inherited shaker cabinets, but this look can transport well to any kitchen with a few design tricks.
Choose a soft pastel color as an overall backdrop for your kitchen. Soft shades of white or cream will allow other items to stand out in the kitchen, such as a collection of copper pans or mixed china in a range of floral patterns and colors. Add in some greenery, such as potted herbs on the windowsills and countertops. If you are not very good with plants, invest in some faux greenery such as pots of flowering faux plants or strands of ivy.
Lighting is an important consideration in your kitchen. Why not arrange industrial-style ceiling shades or pan hangers, such as this Round Hanging Pot Rack, above a wooden workbench to give it that working farmhouse appeal? 
Bedrooms
Just by changing a few details, this unique look can be easily achieved in the bedroom and will be a wonderful place to relax at the end of the day. You may be lucky enough to discover wooden floors under that fitted carpet, which you can clean and polish and arrange an oriental wool rug over. If not, you can disguise a carpet you can't remove by covering it with rugs with Turkish designs.
Paint soft pastel colors on the walls and hang a large framed vintage etching. Use plain white bed linen on the bed, and top with a large cosy blanket throw or a beautiful patchwork quilt. Then place a wooden bedside table with a vintage-style reading lamp, an old-fashioned alarm clock and a posy of flowers in a china cream jug. Bring in a few pieces of vintage polished wooden furniture, such as a large polished wooden chest of drawers or a small table that can double as a dressing table with a free-standing mirror, cream pillar candles and a clock, like this Vintage Tabletop Clock, to complete this homey look. 
Bathroom
Indulge your inner country style with a rustic farmhouse bathroom. There are many simple ideas that will help make this space a cosy place. If you are working with the usual white bathroom suite, it will only take a few alterations to give your bathroom a rustic restyle.
Paint the walls in a soft white color. Remove that modern bathroom cabinet or any modern fittings, replace with a polished vintage wooden shelving unit, or place an old wooden kitchen dresser with glass doors if you have the space. The advantage of using this type of cupboard is that it will hold a lot of the usual bathroom clutter, leaving this space clear and restful. To maximize the light in the bathroom, use a brass rod to hang sheer white voile or linen drapes. You can add some style with a glass chandelier, such as this Midnight Elegance Candle Chandelier, to light the bathroom, a large framed vintage pastel print and some faux greenery. 
Living Room
You can style your living room in this rustic farmhouse style by rethinking the colors, furnishings and art. Incorporate items such as recycled wooden and metal objects, like this Galvanized Windmill Wall Clock, pottery, vintage furniture and comfy rugs. Stone or brick walls are a main feature of this rustic style, but before you start chipping away at the plaster, try the look first by painting the walls in a soft cream tone.
You want to aim for a neutral decorating interior palette, so pack away those bright colorful objects and keep the natural pottery, glass and wooden objects. If you cannot replace that bright sofa, cover it with a heavy throw and neutral cushions in grays and creams. 
The rustic farmhouse style is a wonderful way to give your home that unique look because it is customized to you, using many items you probably already own or have inherited. This charming look is full of character and will be a relaxing, welcoming space for all your friends and family.