Spring Activities For Stress Relief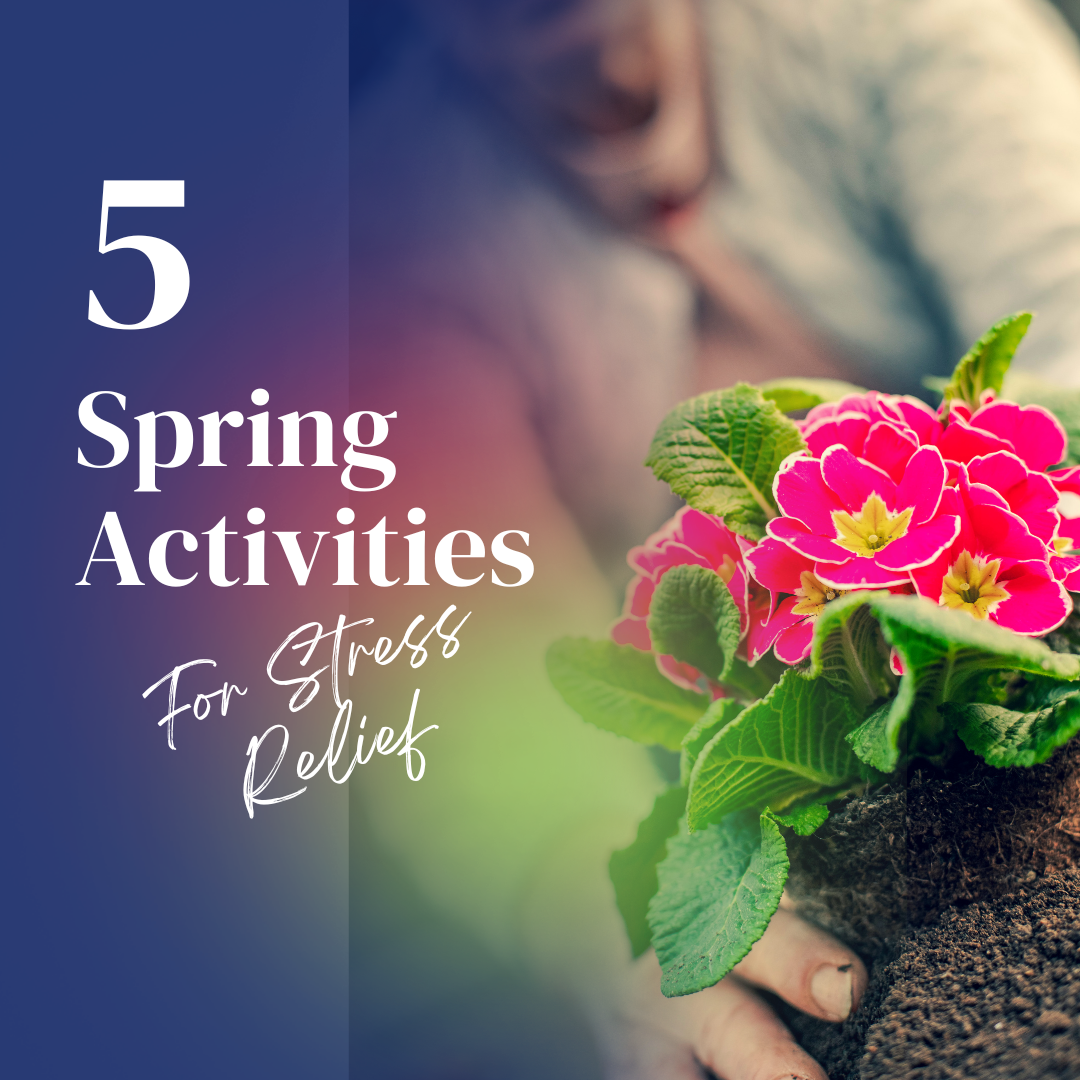 Spring is called the king of seasons for some apparent reasons like better weather, flowers everywhere, trees reborn, fruits and vegetables abundant, longer hours in the day, and so much more.  Therefore Spring is also the best time to pay attention to your mental health and well-being.
Check out these Spring activities to help you unwind and de-stress this season.
Spring Cleaning
Did you know that cleaning activities as simple as doing the dishes can increase your positivity and uplift your emotion? Spring is the best time to get a little sweaty after the freezing winter months. Organize, sort, and dust your spaces and love the outcome as you enjoy your spotless bedroom or living room!
Plant Something
Spring is the time to plant and grow flowers, vegetables, fruits, or trees because the weather is just perfect. The snow would have already thawed and the sun has started to give just enough warmth and light to a blossoming seedling. 
Gardening is proven to relieve stress and help with anxiety and is a sure way to boost your mood. Get your hands a little dirty and reap the many benefits of gardening. Plus, you will have that bragging rights to a bountiful harvest within several weeks!
Garden Makeover
Give some love to your garden, porch, terrace, or yard by giving it a well-deserved makeover after some harsh months last winter. Gardening is a sure way to help you get in a good mood, and spending time in a beautiful garden will elevate the benefits of gardening even more. 
You do not have to break the bank when giving your garden a makeover. Simple touches like repainting fences and garden furniture, adding some cool and cute garden decorations, and putting up lighting can make a big difference in the aesthetic of your outdoors.
Check out our collection of affordable and beautiful garden decorations here: https://daisys-choice.com/collections/garden-decor
Outdoor Activity
Hiking, biking, running, jogging, and swimming are some of the best outdoor activities to get your much-needed exercise. Spring brings the best days and the best weather to enjoy the wind on your hair and the warm sunshine on your face as you get moving this season after cocooning in your blanket last winter. Exercising releases dopamine and serotonin which releases happy hormones that will instantly make you more cheerful and in a better mood. Exercising is not only good for your physical health but is also good for your mental well-being.
Home Makeover
After getting your Spring cleaning done, it is time to give your living, dining, or sleeping spaces a makeover. According to experts, doing even a single makeover to your home can help you better relax and be in a better mood. Simple home makeovers like repainting the wall, moving furniture around, and updating light fixtures will make a big difference in your home.
Plus, you will increase the value of your home if you maintain the beauty of your home should you want to sell it in the future. 
Check out our collection of beautiful homeware, home decor, garden decor, and furniture that you would love during your home makeover. Visit us here today: https://daisys-choice.com/ 
Bonus: Shopping
They say shopping is the ultimate stress reliever and we couldn't agree more! Spring is the best time to score some discounts and promos too. 
Enjoy a 10% discount on all our homeware, home decor, garden decor, furniture, and pet accessories this Spring just by being a follower on our social media accounts. Use the code FOLLOW10 upon checkout at https://daisys-choice.com 
Follow us on our social media accounts and enjoy your exclusive discount: 
FB: @DaisysChoiceHomeware