Simple and Easy Home Decoration Ideas for Christmas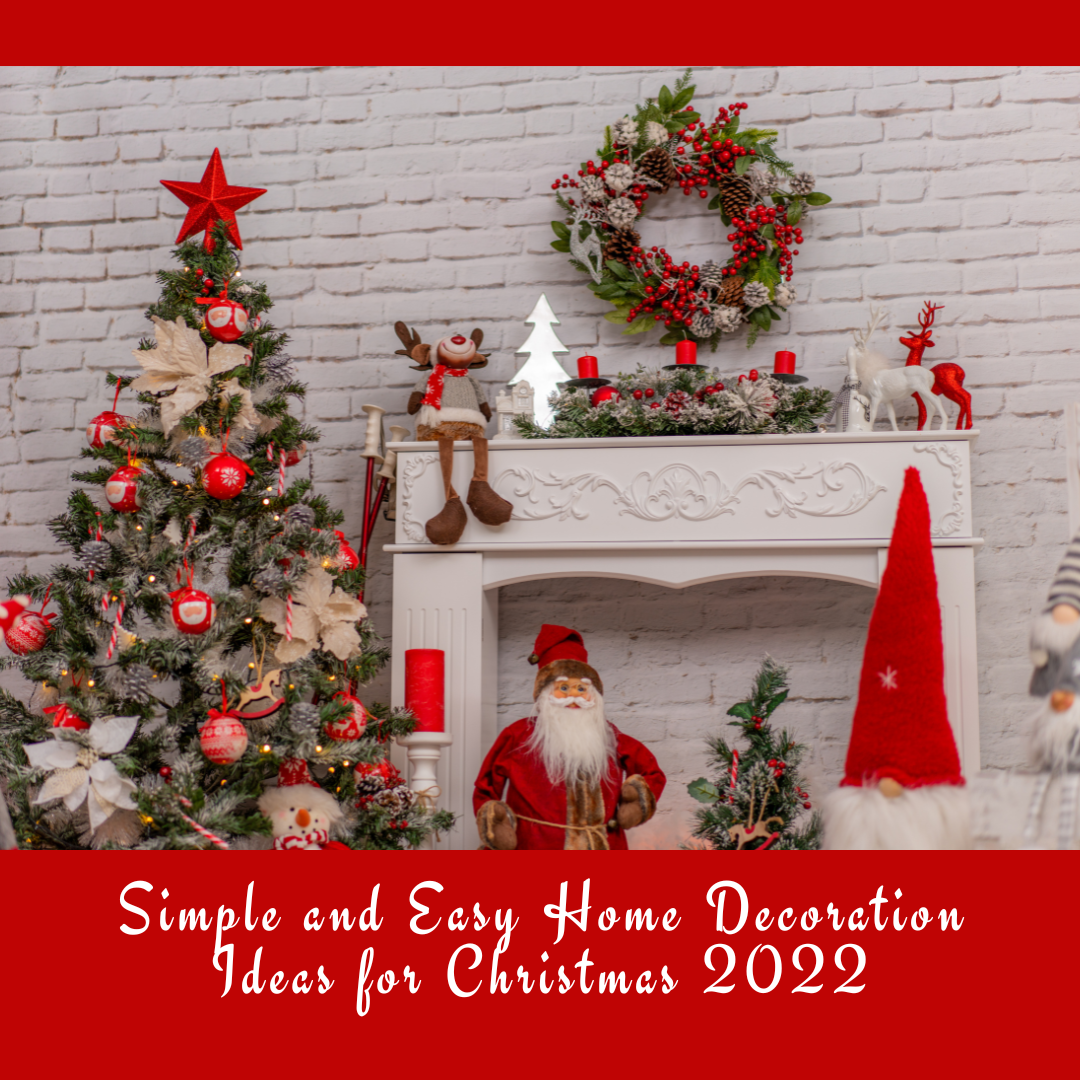 It's December! Yep, time flies really fast and we are about to enjoy the most wonderful time of the year again. Christmas is definitely the favorite holiday of many and just like everybody else, we too are excited to decorate our homes this season. 
Decorating your home for Christmas does not have to be complicated, expensive, or time-consuming. We have listed below some tips for simple and easy home decorations.
Re-use your Christmas tree
A Christmas tree is the highlight of most homes during the Christmas season. Christmas tree provides a glow that cheers the heart when the lights are turned on and reflects beautiful colors from ornaments. You do not have to spend hundreds and hundreds of dollars on a new Christmas tree every year. If you are using artificial Christmas trees, you can use them for up to 8-9 years or more depending on how you store them. Save money by reusing your Christmas tree this year. If you are switching from a real tree to an artificial one, check out our high-quality and long-lasting artificial Christmas trees here:
https://daisys-choice.com/collections/christmas-decorations
Choose your theme before decorating
Before you start putting up your Christmas decorations, make sure that you have a clear vision of what you want to achieve, and the colors that you want for this year. 
Some classic color combinations are red and silver, red and gold, red and green, and blue and silver. While, feminine Christmas themes are: pink and silver, rose gold and baby pink, rose gold and silver, and rose gold and white.
Here are some all-time favorite Christmas themes that you might want to consider: Rustic, modern, minimalist, maximalist, feminine, candy land. 
Once you have decided on your theme, it will be easier when you go decor shopping, and also you will save time and money because you know what you need to buy.
Change your throw pillow and couch covers with festive Christmas designs
As early as October, Christmas decorations are already available in your favorite shops and also in your trusted online shopping stores. Changing your couch throw pillows and blankets into Christmas-themed ones is an easy and sure way to bring the holiday spirit into your home. 
DIY your own Christmas centerpieces
There are 3 reasons why creating your own Christmas table centerpieces is a must. 
You can save money when choosing your own materials and designs

You will surely get the design, style, theme, and look you want according to your preference and taste.

And the time creating your DIY Christmas centerpiece is a great way to pass the time with your loved ones. It sure can create memorable and special bonding moments!
Christmas wreaths
A Christmas wreath on your door is a great way to welcome family and friends into your home during this joyful season. A Christmas wreath on your door sets the mood right away and is like letting your visitors know that they are about to have a great time celebrating Christmas in your home.
Lights, lights, lights 
Christmas lights, string lights, fairy lights, however you want to call it, these lights are a Christmas decor staple to add brightness, glow, and twinkle to any space. Be generous in adorning your Christmas tree, draping your window frames, and wrapping your fireplace with beautiful lights. They also come in different colors. Warm white, white, and multicolor are all-time favorite colors to choose from. 
Accent pieces all around the house
When you have finished decorating your home with your favorite Christmas decoration pieces, and there are leftover pieces of ornaments lying around, they can be used as accent pieces that you can scatter all around the house. Mismatched Christmas baubles, acorns, and hollies can be placed in a clear glass vase, and tada! you have a beautiful accent piece that you may put in empty corners of your bathroom or kitchen counters!
Candles and candle holders
Candles and candle holders are one of the most reliable and timeless pieces of home decorations and they are a great way to amp up your Christmas decorating style. Whether you light your candles or not, they add a touch of class and elegance to your space. Check out our best-selling candles and candle holders here: https://daisys-choice.com/search?q=candles
https://daisys-choice.com/products/moose-bear-table-top-pillar-candle-holder?_pos=21&_sid=7cde7217b&_ss=r
https://daisys-choice.com/products/benzara-traditional-style-wooden-pillar-shaped-candle-holder-brown-set-of-3?_pos=23&_sid=7cde7217b&_ss=r
Scan our QR code to be directed to our wide array of chic, and elegant homeware with our affordable and high-quality home décor, bathroom accessories, garden accessories, Christmas decors, pet supplies, and furniture.