Outdoor Valentine's Day Celebration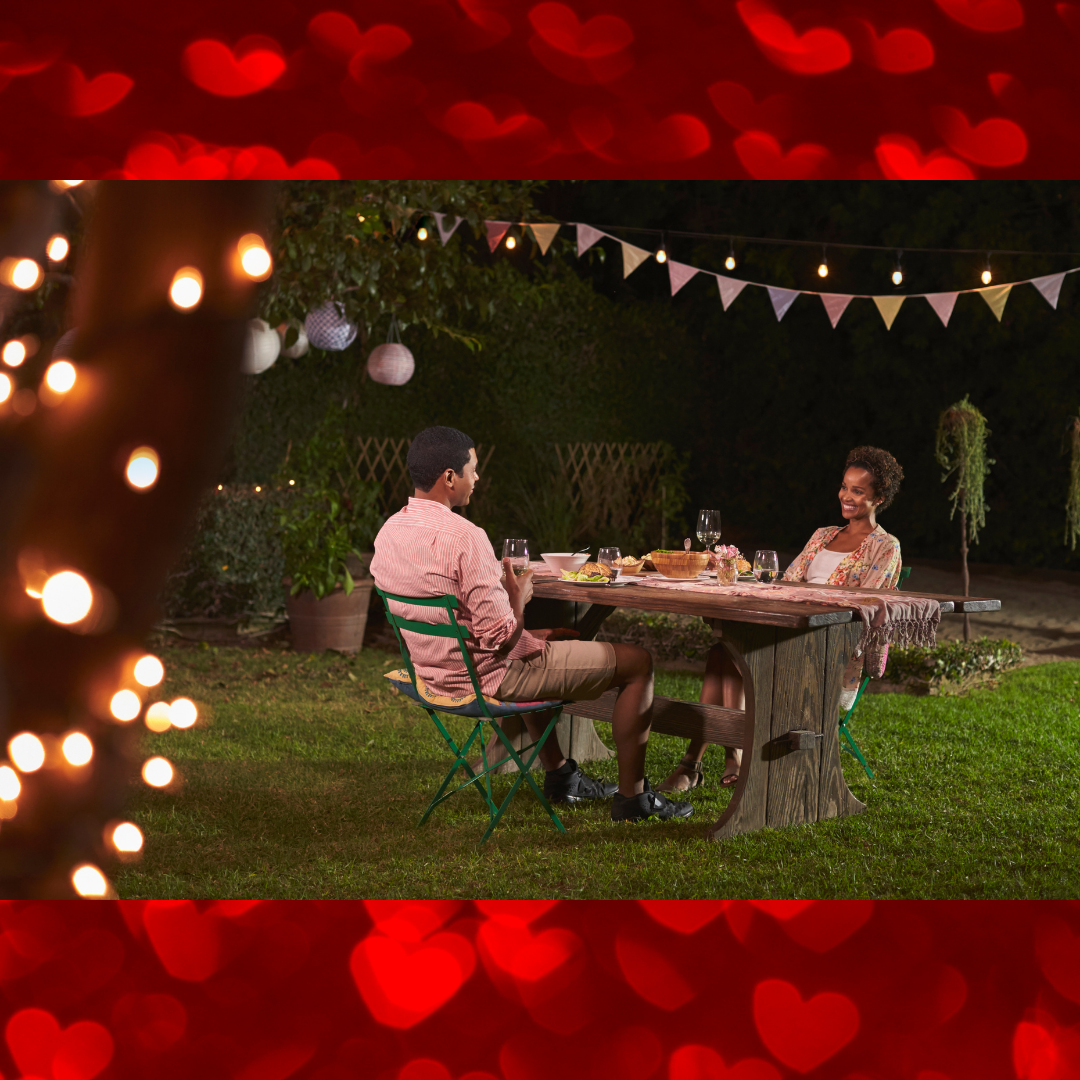 Alfresco, open-air, open-area.  These words are what people look for in restaurants after health experts confirmed that good ventilation is one way to help reduce the concentration of airborne contaminants, including viruses like the dreaded corona. So people naturally want to still enjoy dining out but are also particular about safety.  In this time of the pandemic, Valentine's Day must still be celebrated and we know the perfect way to celebrate it while staying safe. 
If dining out is not an option for you this Feb 14 because reservations for outdoor dining is sold out,  do not fret because you can turn your backyard, lawn, patio, or garden into a romantic setting and have a safe, relaxing, and memorable Valentine's celebration at the comfort of your home. Below are some tips to celebrate heart's day in your own space. 
Surprise Breakfast In Garden
If your partner loves their garden, then they will enjoy a surprise breakfast outdoors. This is a good alternative to breakfast in bed, that we can assure you. Prepare their favorite morning meals into your outdoor dining set, add a touch of sweetness by setting up a lovely vase with their favorite flower. Not into flowers? Chocolates are always a good idea. When they wake up, guide them outside into your wonderful surprise. What a great way to start the day! 
Sumptuous Outdoor Lunch
Not a morning person? Lunch outdoors is always a good idea when the sun is already up and shining brightly, and everything is just nice and warm. Lunch in your veranda, patio, or lanai on Valentine's Day can be made memorable by setting up a sound system that will play romantic songs to accompany you while you enjoy a sumptuous lunch with your loved one. Still, don't forget to include flowers or chocolates or both for that extra touch of sweetness. 
Valentine's Dinner Under The Stars
Let the darkness of the evening add to the romantic touch of a memorable under-the-stars Valentine's dinner in your backyard. 2022 V-Day will fall on a Monday, and if you will find yourself busy that day, there is always the option to order food and have it delivered at home. Set it up on your outdoor dining table, put up some string lights, (you know, those that you got for Christmas) light a candle, put fresh flowers on a vase, uncork the wine, light up your fire pit,  and ta-dah! You have your no-frills safe, memorable, romantic Valentine's dinner. Yet again, chocolates and a little V-Day gift will complete the night. 
Whether you celebrate Valentine's in the morning, lunchtime, or evening. What matters is that this year you get to spend it safely, romantically, and comfortably. Years will pass and you will look back on this intimate celebration that will probably be one of the best Valentine's celebrations you will ever experience.
Here are some of our best-selling outdoor furniture that you will surely love to amp up your V-Day outdoor setup.
3-PIECE GARDEN LOUNGE SET WITH CUSHIONS POLY RATTAN BLACK
Buy this here: https://daisys-choice.com/collections/outdoor-patio-furniture/products/3-piece-garden-lounge-set-with-cushions-poly-rattan-black
5-PIECE GARDEN DINING SET POLY RATTAN BLACK
Buy this beautiful outdoor dining set here: https://daisys-choice.com/collections/outdoor-patio-furniture/products/5-piece-garden-dining-set-poly-rattan-black 
4-PIECE OUTDOOR LOUNGE SET SOLID ACACIA WOOD
Buy the set here: https://daisys-choice.com/products/4-piece-outdoor-lounge-set-solid-acacia-wood?_pos=1&_sid=36145068d&_ss=r
RUSTIC FIRE PIT WITH POKER 29.9" XXL STEEL
Buy this here: https://daisys-choice.com/collections/garden-decorations/products/rustic-fire-pit-with-poker-29-9-xxl-steel
7-PIECE OUTDOOR DINING SET WITH CUSHIONS POLY RATTAN LIGHT GRAY
Buy this here: https://daisys-choice.com/products/7-piece-outdoor-dining-set-with-cushions-poly-rattan-light-gray?_pos=21&_sid=9527e65e5&_ss=r
Take A Look At Are Our Timeless Valentine's Décor Essentials
Artificial Wisteria Flowers Vine Silk Flower Wedding Garden Party Hanging Decor
Buy here: https://daisys-choice.com/products/artificial-wisteria-flowers-vine-silk-flower-wedding-garden-party-hanging-decor?_pos=1&_sid=4e03d323a&_ss=r
Anchor Hocking Bud Vase Glass Clear 8.5 Inches
Buy here: https://daisys-choice.com/products/anchor-hocking-bud-vase-glass-clear-8-5-inches?_pos=1&_sid=2afc8c99f&_ss=r


Enbrighten 31660 Classic Led Cafe Lights (12ft; 6 Acrylic Bulbs)
Buy here: https://daisys-choice.com/products/enbrighten-31660-classic-led-cafe-lights-12ft-6-acrylic-bulbs?_pos=4&_sid=35b1730db&_ss=r 
Aloha Bay - Votive Candle - Love - Case Of 12 - 2 Oz
Buy here: https://daisys-choice.com/products/aloha-bay-votive-candle-love-case-of-12-2-oz?_pos=9&_sid=781b916af&_ss=r
Benzara Traditional Style Wooden Pillar Shaped Candle Holder, Brown, Set Of 3
Buy here: https://daisys-choice.com/products/benzara-traditional-style-wooden-pillar-shaped-candle-holder-brown-set-of-3?_pos=13&_sid=781b916af&_ss=r
Celebrate Valentine's Day safely at the comfort of your own space this 2022! Happy love month from us at daisys-choice.com/ ❤