How to Decorate for Halloween Without Breaking the Bank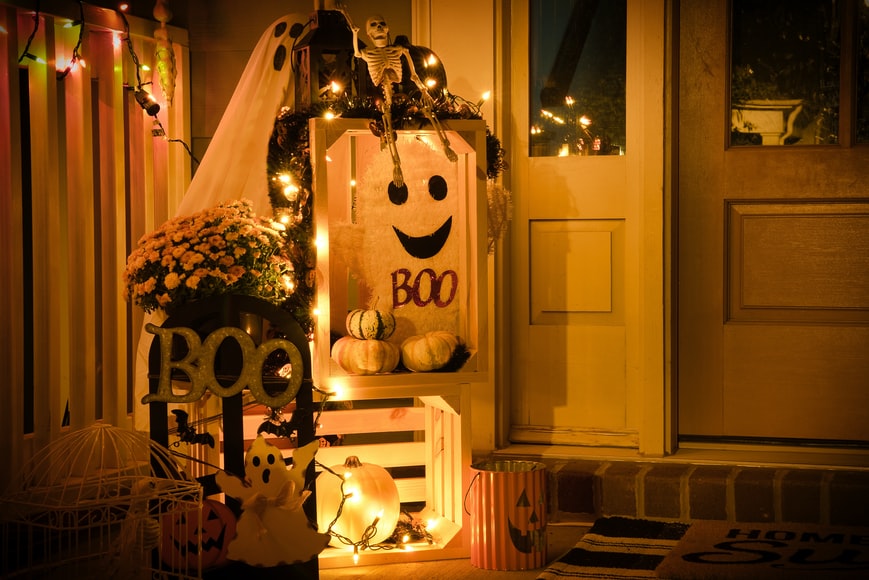 It's October and Halloween is fast approaching! It will fall on a Sunday this 2021  which will make your weekend extra special. Kids and kids at heart are always excited for Halloween and for sure it will stay that way for years to come thanks to  the endless ways of spooking your friends and family. It has always been a tradition to decorate your house, backyard, lawn, patio during this season and today we will be sharing some amazing tips on how to make your Halloween decoration amazing without breaking the bank. 
DIY a Wickedly Beautiful Dripping Candle
Candles are the most common Halloween decoration and it is really easy to level it up. All you need to do is light some dripping candles, once you get your desired texture, place them on Halloween set up. Use our Benzara Traditional Style Wooden Pillar Shaped Candle Holder to finish the look. 
This classic set of three (3) candle holders will provide a great option to embrace the beauty of your settings. It is made up of wood and is available in three varied sizes, small, medium, and large. Forming a pillar shape, these finely designed candle holders will beautifully complement your drip candles. Designed to support large candles with a wide base, these candle holders make a great place at your dining table or atop the mantle this Halloween. 
Overall Dimension: 4 inches in length x 4 inches in Width x 11 inches in Height
Easy to mount and clean as it requires a wipe with a clean dry cloth at regular intervals
Comes in 3 candle holders. 
Get them here: https://daisys-choice.com/products/benzara-traditional-style-wooden-pillar-shaped-candle-holder-brown-set-of-3?_pos=4&_sid=f18f1ae71&_ss=r
Level Up Your Pumpkin Décor
Pumpkins are a must-have for Halloween and it is always a great idea to give the usual pumpkin decoration a make over by painting them black or white. To break the monotony of orange pumpkins, use your leftover paint and give a refreshing touch to this classic Halloween staple. A pumpkin that is painted black or white will give texture to your spooky set up and also will make your porch stand out. 
Repurpose Your Wreath
Wreaths are the perfect décor item that you can use for all seasons and holidays all year round. No need to buy Halloween wreath this year, use the wreath that you used last Christmas and decorate it according to your style and taste. This year is all about minimalism which makes your wreath decorating easier and cheaper. Just add the basics to your wreath like twigs, flowers, and perhaps some fairy lights and you have a personalized Halloween wreath that will surely be an eye catcher in your door or even in your living room wall.
Fill Buckets With White Flowers
White flowers are not a common sight in Halloween decorations, but we assure you that filling your buckets or baskets with white flowers will elevate the sophistication of your Halloween set up. Your painted pumpkins will also be a great addition to your buckets filled with white flowers. Arrange the black and white pumpkins beside the buckets or baskets and voila, you have a unique and interesting Halloween decor!
Our Green Tinged Metal Bucket Planter With Handles, (Set Of 3) is perfect for this unique Halloween setting. 
Dimensions: 10 inch L x 8 inch W x 13 inch H (Large)
8 inch L x 6 inch W x 11 inch H(Medium)
7 inch L x 4 inch Wx 9 inch H(Small)
These planters have a green distressed tinge on a smooth copper finish
Perfect for indoor or outdoor garden and can be adorned with various other decorative items
Perfect for indoor or outdoor garden and can be adorned with various other decorative items
Get them here: https://daisys-choice.com/products/green-tinged-metal-bucket-planter-with-handles-set-of-3?_pos=2&_sid=d6598b8ec&_ss=r 
Accentuate Your Black Mirror
A black mirror like our Wall Mirror Baroque Style is perfect to add to your Halloween decoration. Bring out your creativity by adorning it with faux cobwebs and bats and you have yourself a low cost Halloween décor stunner. Lean it against the wall and surround it with pumpkins and your bucket with flowers and you have a great set up that is sure to catch anyone's eyes. 
This beautifully designed wall mirror with an ornate frame will create a classic atmosphere in your bathroom, dressing room or bathroom.
The antique-look mirror has a sturdy wooden frame that has been meticulously crafted in a decorative Baroque pattern. In addition, the beveled edge gives this mirror a unique look.
Size: 39.4" x 19.7" (L x W)
Get it here: https://daisys-choice.com/products/wall-mirror-baroque-style-39-4x19-7-black?_pos=9&_sid=6c8a748c7&_ss=r
Stick Googly Eyes Everywhere
Googly eyes are cheap and very easy to use. Just stick them to literally anything you want and you can make your fruits, veggies, toys, eggs, etc  funny and spooky!   They are available in different sizes for less than $10 from any craft store. 
Print and Frame 
Print a funny or scary photo from the internet, frame it and hang it on your wall and you got yourself a customized easy DIY Halloween decoration. Our Kayan- Set Of 2 11x11 Photo Frame in Gold will complement black printouts and give a fancy outcome to your Halloween set up.
All frames in the Kayan collection have a wide mat for a truly distinctive look.
5"x 7" = 2.5"x 4" opening
11"x 11" = 4"x 4" opening
14"x 14" = 4"x 4" opening
Vista frames are made of recycled expanded polystyrene foam [AKA Styrofoam], reducing the amount that ends up in landfills, and increasing the amount of beautiful wall decoration!
Get them here: https://daisys-choice.com/products/kayan-set-of-2-11x11-photo-frame-gold?_pos=4&_sid=a123318d5&_ss=r
Check out our collection of homeware, home décor, gifts, furnitures, pet accessories at https://daisys-choice.com/