How A Fountain Can Transform Your Garden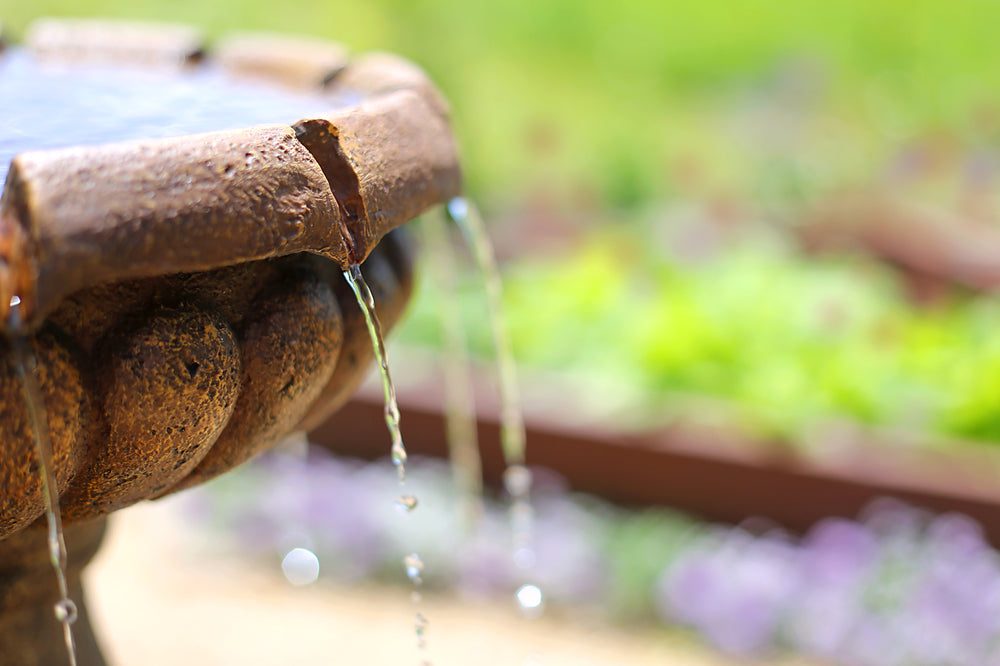 How A Fountain Can Transform Your Garden
A garden can be a haven. It's somewhere to relax, entertain and enjoy the open air, so how we style our gardens can be just as important as how we style the inside of our home. You don't have to be an avid gardener to have a fabulous-looking garden. In addition to plants and greenery, you can use garden accessories to create a wonderful outside area. By choosing garden decor to create an atmosphere and add interest, you can really transform your garden.
Sensory garden
Introducing a water feature to your garden adds both aesthetic appeal and ambience. A water feature can provide a striking visual impact while stimulating the other senses with the motion of the water and the gentle sound. Who can resist placing their hand under the cool flow of water on a hot day? In hot climates, the running water of a fountain can help to cool the surrounding air.
Considerations
The cost of running a fountain or water feature should be minimal, with water features turned off at night and throughout the winter. Water will only need filling up in self-circulating water features in very hot weather, and it is also possible to use solar-powered fountains such as this Thirsty Dog Solar Fountain.
Always consider the positioning of the water feature. It's best not to place water features underneath lots of foliage, which may drop into the water. Always think very carefully about safety with any water feature when young children are using the space.
Garden size
Whatever the size of your garden, there will be a water feature to suit it. Whether you have a large open space or just a small patio or backyard, you need to consider the scale.
A large fountain is best suited to big gardens with open landscapes, vast lawns, or large paved areas, where they will provide a nice feature. A larger garden can accommodate a large centerpiece fountain with a pool surround, which would overpower a small space.
For smaller gardens such as courtyards, a self-circulating fountain is ideal as these require little maintenance and can be small in size while still making an impact. There are water features available for even the smallest gardens, and self-contained water features, such as bowls or small fountains, can be fit into any small space. For example, this Tiered Round Tabletop Fountain is ideal for a small patio thanks to its tabletop size.
Tall, upright fountains are also perfect in a small garden as this style of fountain can create real visual impact thanks to its height without taking up much floor space. This 4 Tier Water Fountain is a beautiful example that could fit into any compact courtyard or patio garden.
Lighting and water reflections
One of the great benefits of adding a fountain to the garden is the natural light reflections from the water. Watching the sunlight reflect on the flowing water can be very relaxing. Think about how beautiful it is to see the sparkle of the sunshine in the sea; with a water feature in your garden, you can recreate this tranquility.
Introducing extra lighting in the garden can be really effective, particularly as day moves into evening and you want to keep enjoying your garden. Subtle lighting can highlight a water feature, creates a wonderful atmosphere, and is fantastic for those who like to entertain in their garden. A water feature with lighting incorporated into it, such as this Black Lantern Tabletop Fountain, would be ideal to create a warm ambience.
Garden style
In addition to the size of your space, you should consider the style of your garden before you choose your fountain. If you have a natural planting scheme, a feature such as this Tiered Rock Formation Fountain would be a good choice with its irregular shape and natural-looking elements.
If you have a contemporary garden, however, with neatly edged lawns and well-clipped hedges rather than the wild look, you should go for something with either neat lines or a globe or bowl shape, such as this Desk Top Water Fountain with its modern, rounded style.
If you are looking to create a relaxing area where you can unwind or meditate, choose something that will not dominate the space and will add to the relaxing atmosphere, such as a Zen Buddha Fountain. Whatever your garden shape, size or style, there will be a water feature to enhance your space.