Garden Decoration for Fall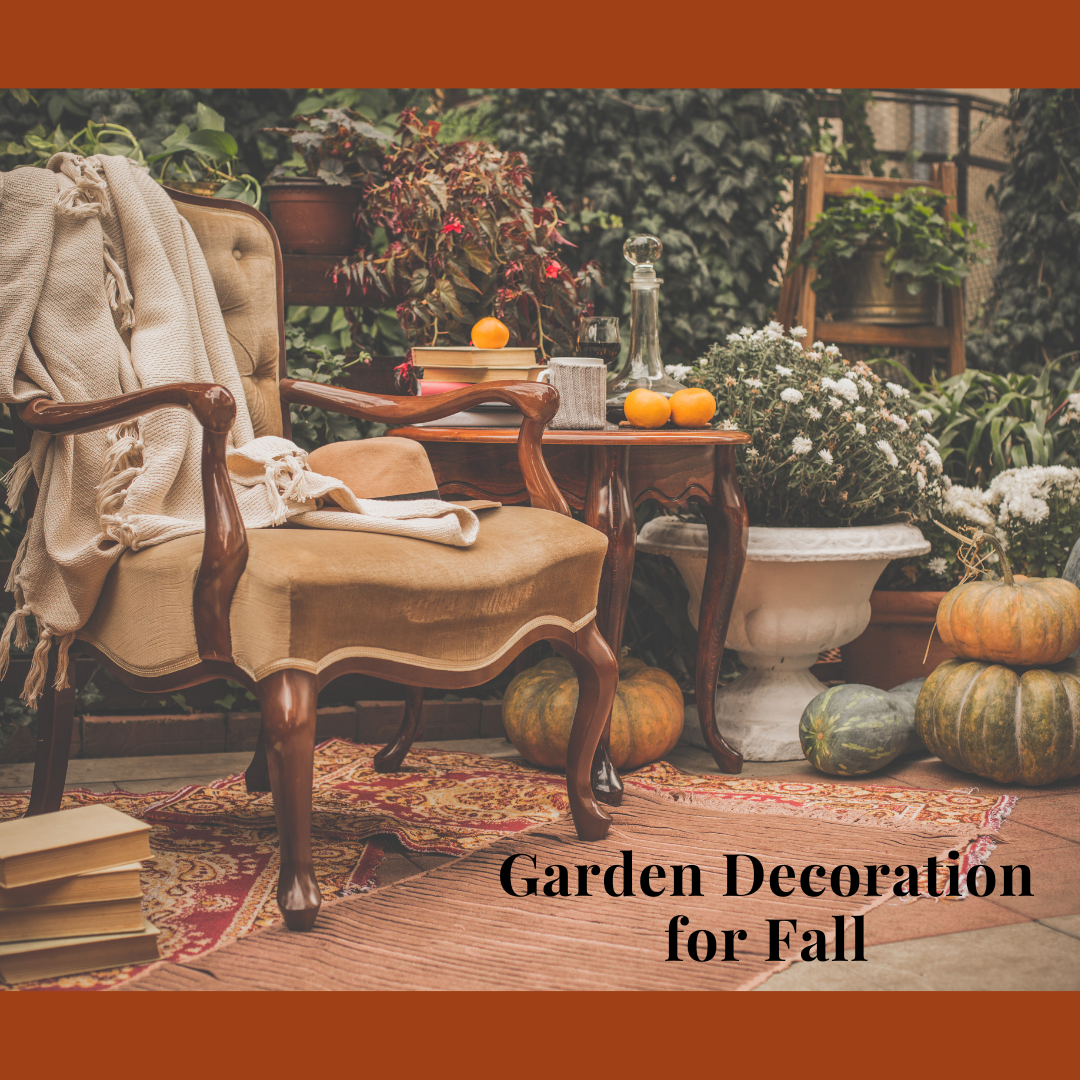 Fall is a season of celebration. During this season is when we show off our bountiful harvests from summer. For many, the Fall season is also the perfect time to design and decorate their outdoor spaces with colorful leaves, pumpkins, dried flowers, and weaved baskets. 
According to experts, Autumn is the best season and we couldn't agree more. The trees change their colors, and we get the perfect weather after the heat of summer and right after the freezing cold of winter, lots of festivities and holidays, seasonal sales, and discounts everywhere are some of the top reasons why Fall is just the best! 
Check out our list of garden decorations for Fall.
Pumpkins!
Of course, pumpkins are the star of Autumn decorations. They are not limited to Halloween and spooky décor only. Pumpkins, gourds, and winter squash are usually seen on the porches, patios, and gardens of our green-thumbed friends. Pumpkins and their varieties are not only pretty but their earth-toned colors are just perfect for the season. They are also great at showcasing a bountiful harvest and displaying pumpkins symbolize our thanksgiving for an abundant blessing of nature.
Pumpkin Varieties
Did you know that there are hundreds of Pumpkin varieties that you can choose from to decorate your garden this Autumn?
Big Autumn (hybrid, yellow when mature)
Jack-Be-Little (standard orange miniature)
Early Autumn Early Autumn
Baby Bear (small, flattened shape; fine stem)
Ghost Rider (dark orange; very dark green handle)
Happy Jack (uniform, dark orange; good handle)
📷: Southern Living
Autumn Garland
Hanging a Fall-themed garland in your garden will elevate the aesthetic of your outdoor space, and it will also give that majestic flair in an instant. You can create your DIY Autumn garland using greeneries and Magnolia leaves. Just be reminded that your garland should stay away from direct sunlight and you should be able to have them on display for about a month. 
Garden Autumn Wreaths
There are many, and we mean hundreds of available autumn wreaths that you can easily buy at stores and online shops to hang in your porches and gardens. However, these are made of plastic and we know that in the long run, that is not a good thing. Another good thing about this season is that nature provides us with free materials that you can use to DIY your very own Autumn wreath and you can easily find these materials in your backyard such as vines, dried leaves, dried flowers, acorns, berries, and a lot more if you just pay attention into your surroundings. 
Save money, help the environment, awaken your crafty side, and have a customized wreath according to your taste, theme, and mood are some of the benefits of doing your own Garden wreath. 
Plaid
Plaid definitely owns Autumn and do not be afraid to incorporate them into your outdoor garden decoration this Fall. Update your outdoor pillowcases with plaid patterns. Lay out your plaid blankets into your outdoor seating and relax as you unwind at the end of the day admiring your beautiful garden. 
Outdoor Furniture
Outdoor garden furniture is a must-have not only for Autumn but for every season. Check out our best-selling outdoor furniture that is suited best for Fall. Enjoy your quiet time alone or have a blast with friends on an outdoor party, we have affordable and high-quality outdoor furniture that will suit your needs. Check them out here: https://daisys-choice.com/
5-PIECE GARDEN LOUNGE SET SOLID ACACIA WOOD
Buy here: https://daisys-choice.com/collections/outdoor-patio-furniture/products/5-piece-garden-lounge-set-solid-acacia-wood
2-PIECE GARDEN LOUNGE SET WITH CUSHIONS POLY RATTAN BROWN
Buy here: https://daisys-choice.com/collections/outdoor-patio-furniture/products/2-piece-garden-lounge-set-with-cushions-poly-rattan-brown-1 
Garden lanterns and fairy lights
Warm outdoor lighting sets the mood and completes the Autumn vibe of your garden. Hang lanterns, drape fairy lights across your plants and trees, or install pathway, garden, or wall outdoor lighting. There are also lots of solar outdoor lighting that you can now get anywhere which are fantastic in saving money and are low to zero maintenance. 
Autumn is a festive season and we wish you to enjoy your outdoor chill time in the comfort of your garden. Love, daisys-choice.com   ❤
References: