Creating Unique Room Layouts With Shabby Chic Décor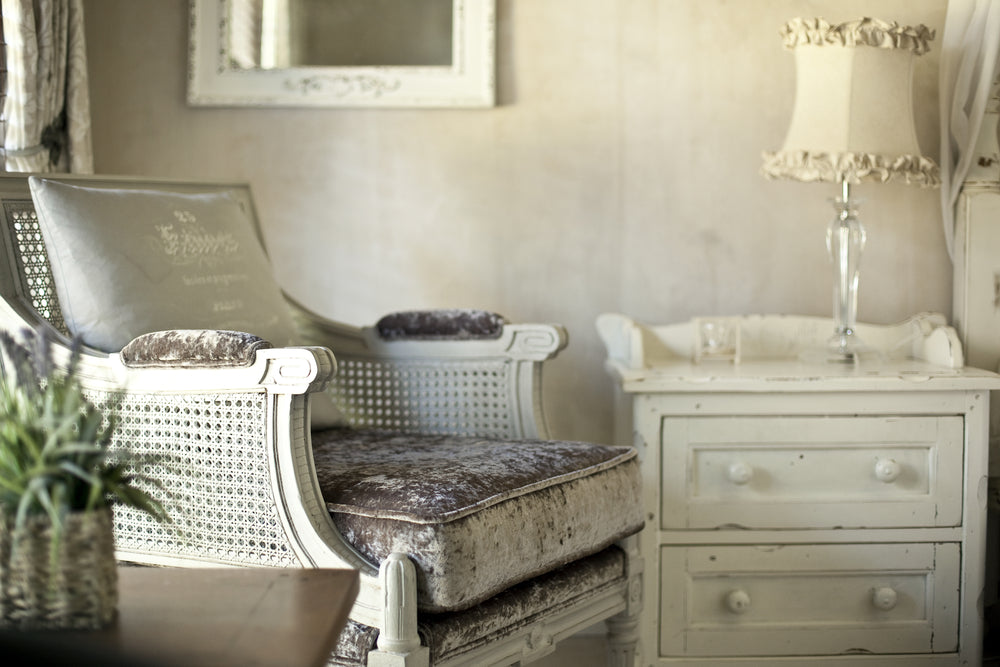 Creating Unique Room Layouts With Shabby Chic Décor
Shabby chic interior style is easy to achieve by combining a few simple elements of room décor. Pair some nostalgic florals with French country style and you have that irresistible vintage-rustic twist. Although it is certainly not a new trend, shabby chic is more popular now than ever.
Its longevity is partly down to its eclectic basis, making it one of the easiest looks to throw together. So many elements fit the shabby chic description, including pastel colors, vintage pieces, upcycled furniture, chalky finishes, and feminine lacy fabrics. Here's how you can achieve this stunning look in your own home without breaking the bank.
Color and detail
Shabby chic interiors can be based on one single color. The mono theme can be created with soothing neutral shades, and then you can add the detail in the form of busy fabrics and ornate accessories. The palette is entirely up to you. Try off-white and creams for a sophisticated look with a French style. White-washed wooden furniture with a distressed finish fits in well. A chic tray table, like this Shabby Chic Tray Table will add both detail and charm to your design.
The detail can be added by multiple layers of accessories that provide depth and texture. Fabrics are a great way to do this, and crochet throws and lace tablecloths work especially well.
Artisan accessories brimming with craftsmanship
Shabby chic is all about celebrating individuality and character and is not about mass production. No two shabby chic interiors should look the same. Artisan and collectible accessories will always look great, so why not add your own handmade pieces?
Contrast is the name of the game here! Combine plush and luxurious fabrics with distressed recycled wood. Use subtle brushstroke details in shades of soft blue and grey and combine it with the pretty detail of floral fabrics. If your space looks like a collector's paradise packed full of mismatched pieces, you know that you've got it right.
Farmhouse rustic charm
The relaxed and informal approach of shabby chic dovetails perfectly with the rustic charm of farmhouse style. Here you can use subtle stripes and pair them with neutral shades. For furniture, opt for some Shaker-style pieces to give that classic rural look. The palette is all about cream and beige, and the fabrics can be striped linen with a hint of color. Subtle pinks work very well, but checked patterns are another option.
Try to introduce as many natural materials as possible and avoid manmade materials such as plastic. Always opt for wood, linen, and cotton, which have their own rustic charm. This Arched Wood Iron Wall Décor will bring rustic elegance to your space.
Don't be tempted to lay linoleum or carpet on the floor. It has to be natural wood or tiles. If this is not possible, opt for aged-effect laminate and woolen rugs.
Pretty flower prints
Detailed flower prints in subtle pinks and greens introduce a natural element and vibrancy. They contrast well with white wood and create a timeless and nostalgic vibe with hints of romance.
Why not create a feature wall using Cath Kidston-style prints. Alternatively, use tongue-and-groove paneling to introduce a garden fence feel. If you use this theme for a bedroom, it can be balanced with cozy throws, blankets, and cushions to give it depth and texture. Crocheted, knitted or lace cushion covers are best.
In terms of color, a rich cream will complement the prints without detracting from them, while a pale pink will add more interest and warmth. If your budget can stretch to a four-poster bed in white or natural grain and a distressed finish bedside table, you will have the perfect ambience.
Farmhouse vibe and gentle colors
Rural France adopted shabby chic long before it became popular among the urban populations. You can recreate this look using textiles in muted shades and distressed wood. For your walls, choose a subtle duck egg paint and then add in your furnishings. Wooden furniture coated with a chalky rich cream paint and finished with a distressed look works best. Pick up pre-loved items in thrift stores or online. You may even be able to get them for free from your neighbors.
The rustic French vibe can be further developed with cushions in natural fabrics with subtle stripes. Why not finish the look with a cotton throw and toile prints to introduce a touch of elegance?
On the floor, sisal carpets work best or hardwood floors with textured rugs, but always opt for a neutral shade and avoid bold patterns that will overpower your delicate design.