Creating A Warm, Homely Feel In Your Home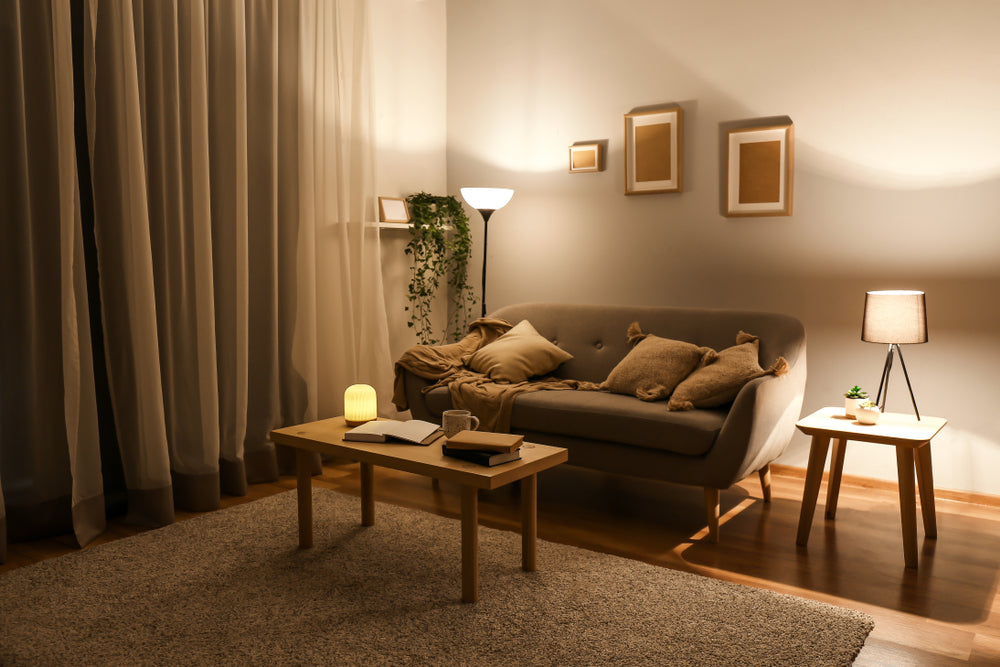 Creating A Warm, Homely Feel In Your Home
Making a house feel like a home is often about the little things rather than major decoration projects. You can create a warm and welcoming vibe without breaking the bank. All you have to do is introduce a few little design features that make all the difference. Think about all of the senses. You want some elements that look, sound, feel and smell homely.
Flood your home with gentle candlelight
The warmest and most welcoming light is created by flickering candles - the more the better! You can group candles of different sizes in the center of a dining table or on a side table in an entrance hall. You can even add foliage around them. Another attractive option is a candle inside a lantern, such as this Distressed Floral Lantern. If you would prefer not to have a naked flame in your home for safety reasons, an LED light can also be highly effective, and some will flicker to give the effect of candle light.
Subtle lamp light for a homely feel
Lamps can also be used to create a subtle lighting effect that is gentle on the eye and gives your home a welcoming and warm feeling that you can detect as soon as you step in through the door. You could use one larger lamp or several small ones and think about where you are placing them. Lighting at different levels also works well as it casts gentle shadows around the room. To add some cozy character and a relaxing vibe, a lamp with a figure on the base, such as this Buddha Table Lamp, is perfect.
A welcome mat at the front door
Nothing says homely like a mat welcoming you through the front door. A welcome mat makes the entrance hall feel warm and homely and creates a lived-in atmosphere. Welcome mats also serve a useful purpose and protect the floor surface. They can be made from a variety of materials, but natural materials are the best. You can extend a warm welcome to your guests with this Multi-Lingual Welcome Mat in a variety of homely colors.
Garden fountains for welcoming movement
You can make the outside of your home feel as welcoming as the inside! Every garden, no matter what its shape or size, can benefit from a water feature. These bring movement and texture, which introduces a homely feel. They also introduce constant, gentle sound that is highly calming. You need to choose a water feature that is the right size for your garden. There is no need for people who have just a balcony to lose out. You can get compact water fountains, such as this Tiered Round Tabletop Fountain, that are small enough to fit in a confined space.
Fill your space with essential oils aromas
The fragrance in your home is as important as how it looks. By filling your space with a welcoming aroma, you can make it feel welcoming and cozy. Essential oils are a natural and very effective way of introducing fragrance. There are loads of oil warmers to choose from, but this Elephant Oil Warmer Trio will bring character and charm to your home as well. For a calming atmosphere, lavender oil is a great option and will bring a feeling of peace and serenity. For an uplifting vibe, bergamot is a brilliant choice that will fill your home with positivity.
Introduce plants for a calming effect
Nature always introduces a warm and welcoming feel to any home. Plants are one of the most versatile interior decorations as they suit all types of décor and come in many shapes, sizes and colors. By matching your plants with an attractive planter, you can multiply the effect. Using matching planters in different sizes, such as this Floral Nights Ceramic Planter Set, will also add depth and texture. Group them together by the front door and they will welcome you home every night.
A welcome sign to greet guests
Extend a warm welcome to your guests with a quirky welcome sign that gives your home a warm feeling. It could be placed outside or just inside the front door. Welcome signs can be made out of all sorts of materials and come in many shapes and sizes. However, those that feature animals are always the best! This Cowboy Wheel Welcome Sign is a unique and quirky way to make your home truly welcoming and make your guests smile.