Clever Ways to Decorate Your Garden Using Pallets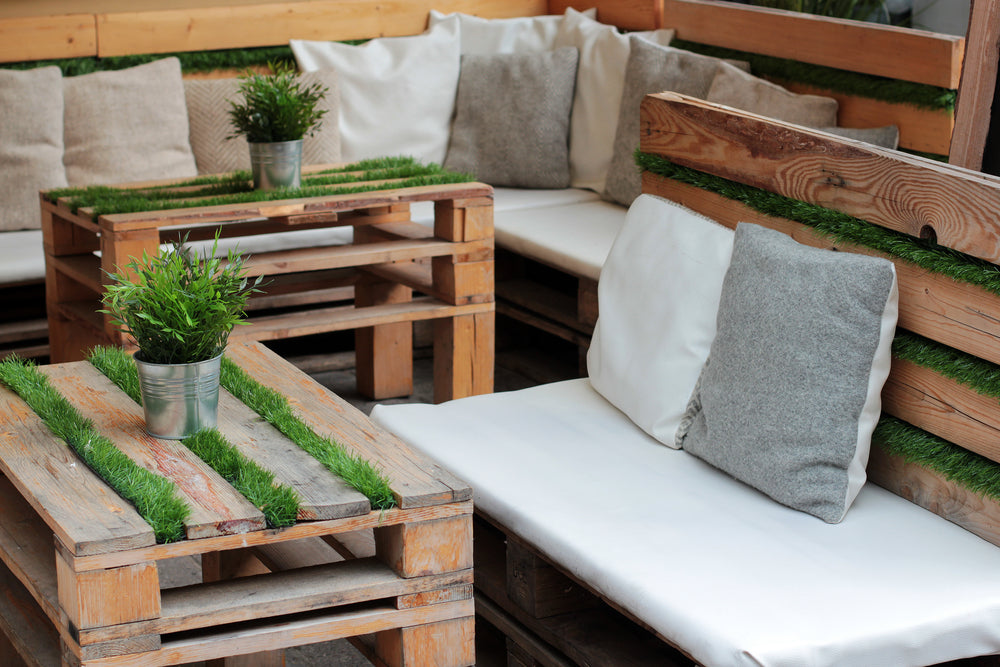 Clever Ways to Decorate Your Garden Using Pallets
There are some fantastic ways you can decorate your garden using pallets. It is a wonderful way to recycle, so you know you are being kind to the environment while you are giving your garden a fresh new look that won't break the bank.
Using pallets for your garden may take a little bit of energy and creativity, but great things can be managed in the space of a weekend if you think outside the box a bit. Here are some really clever ways to decorate your garden using pallets.
1) Playhouse
If you have children, you could build them a playhouse using pallets. Keep the decoration fresh and funky using bright colors or bean bags. They could even help to decorate it themselves. This will keep them happy and amused for hours as you take care of the rest of the garden.
2) Gazebo
You could use pallets to build yourself a gazebo in the garden. Comfortable, soft furnishings will help you to turn this space into a reading room or yoga retreat. You could even get adventurous and build big so that you could fit a bar into the space and use it for outdoor entertaining.
3) Garden Furniture
Garden furniture can look wonderful using pallets, and they are not too difficult to make. A wooden bench and matching table are simple and can be created in just a few hours if you have the right tools. A fresh coat of paint in the color of your choice will add a fresh look to your garden seating arrangements. It's the perfect place to enjoy a well-earned cup of coffee or glass of wine.
4) Decking
A decking area could be made from pallets. Lay them down and attach them together, and you have the perfect decking area for relaxing in the sunshine. A coat of wood paint will finish the look off wonderfully, and it will save you a lot of money to do this yourself rather than paying for a landscape gardener to create the same look from expensive wood.
5) Garden divider
Although you may not want to use pallets for your main fencing, you could use it to divide your garden into sections. For example, a divider between your decking area and lawn could be made from pallets. You might want to section off a play area containing a swing set or seesaw. A white picket fence for the front garden would also look wonderful made from pallets. The garden divider possibilities are endless using pallets.
6) Base for plant beds
You can build a lovely border and base for plant beds that you want to keep contained from pallets. Paint the wood and build in a square or rectangular design and make a feature of it in your garden. Depending on the size of the space you have, you could even build two or three of these beds and make them a lovely focal point of your garden. Then you can add soil and the plants of your choice. You could also use this idea to plant flowers or vegetables, too.
7) Herb Garden
Use pallets to create your own herb garden. Plant your herbs in the space between the slats, nurture them and watch them grow. You can use the slats themselves to write what herb you are growing in the space so you don't get confused. This is especially beneficial if you are new to growing garden herbs. This will give you fresh, seasonal herbs and it means that you don't have to spend time and money buying them from the grocery store.
8) Wall Hanging Plants
Attach your pallet to the wall, and you have a great space to hang wall hanging plants. You can make a feature of this by hanging several together or by selecting carefully crafted hanging baskets.
9) Lighting
Pallets make a great hanging space for lighting. Hang the pallet on the wall or stand it on the ground and use it as a back base for your lighting requirements. You can use the pallet to hang lanterns from or even string up fairy lights for that magical garden feel. This way, you can still enjoy outdoor entertaining once the sun has gone down and your guests will be impressed.
There are some extremely stylish and clever ways to use pallets to decorate your garden. Why don't you try some of these for yourself and create everything from a large living space to a flower bed using these ingenious ideas?