Bring The Seaside Home With These Coastal Decor Ideas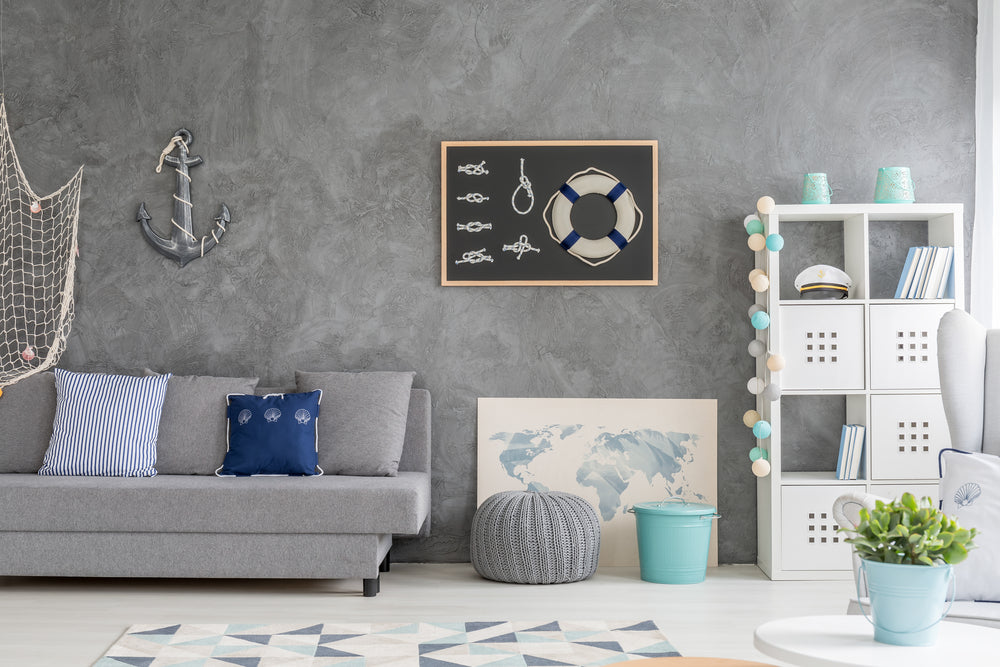 Bring The Seaside Home With These Coastal Decor Ideas
The Coastal style is, in its simplest definition, a beachy, seaside look. But coastal decor is so much more than just a nautical theme and seaside accessories. Coastal style is about creating a space in your home that has the relaxed, airy feel of the beach. Coastal decor should feel laid-back, fresh and light and should invoke the serenity of days at the seaside.
Here is a look at some of the key characteristics of the coastal design, along with some easy ways to recreate the coastal style and bring the beauty and tranquility of the beach to your own home.
Keep the room light and airy
A predominantly white room makes the perfect light and airy backdrop for a coastal-style room. You want to somehow create a feeling of openness and light in your home - think of a vast stretch of white sand and the encompassing light sky at the coast - and white walls paired with a white ceiling can help lighten the space. Whitewashing wood paneling if you have it will immediately brighten the room and give it that beach house vibe.
Light, neutral colors such as creams work well too, as do natural colors such as shades of blues, greens, warm beiges and grays.
Blue and white color scheme
The classic color scheme for coastal decor is blue and white to reflect the ocean and the white sand. Whether you choose light pastel blues or deeper blues for more of a visual impact, the blue and white color combination will naturally create a beachy feeling. Adding in blue accessories is the perfect way to introduce color to a pale room. The delicate and dusky blue frame of this Blue Sunburst Wall Mirror, for example, would be perfect to add color to a room. Selecting different hues of blue can look particularly effective as it reflects the natural variation of shades seen in the ocean.
Create open space
Not everyone has an open-plan house, but you can create the feeling of openness by ensuring the room is not too cluttered with furniture so there is a feeling of a space. Keeping the room fairly minimalist is also an effective way of creating an open feeling. Rather than filling the room with lots of ornaments, carefully select some choice pieces to enhance the coastal decor, such as this Large White Coral Tabletop Decor. Allowing pieces to stand alone will also give them a greater visual impact.
A cheat to make any room look bigger and more spacious is to use mirrors, and this Heirloom Round Wall Mirror, for example, also enhances the coastal style with its shell accents and would work well on a bedroom wall to give a sense of space.
Use fabrics to create texture
Soft furnishings can make the room appear more comfortable and inviting and bring the whole room together. When creating a coastal decor in your home, think about sheer, billowy fabrics for curtains and natural fibers, such as jute or seagrass, for rugs.
Add some ocean sparkle
One of the most beautiful aspects of the seaside is the sparkle of the sea in the sunlight. You can bring this seaside sparkle into your home by adding in reflective materials such as glass and mirrors. This Sailboat Art Glass Statue, for example, with its blue tones, will reflect light beautifully and really add a touch of the sea to the room. Using mirrors or glass tiles also work well to reflect light and add a contrast to matte surfaces.
Coastal-themed artifacts
You don't want to go overboard with nautical knick-knacks, but some well-chosen coastal-themed accessories will undoubtedly add to the beachy look and feel of the room. It's possible to find some really elegant sea, beach or coastal-themed ornaments, such as this Passat Ship Model, which looks sophisticated and will subtly enhance the decor.
Choose coastal-style lighting
Lighting is crucial in interior design as it really sets the mood and atmosphere for the room. For coastal decor, accentuate the room with appropriate lighting choices, such as the Blue Lighthouse Lantern. This classic lantern comes in a beautiful deep blue that would suit any coastal blue-and-white decor without being overly nautical. It would look stunning placed on a wooden sideboard or coffee table but could equally be used as a centerpiece on a dinner table, either inside or outside.