9 Fabulous Valentine's Day Decoration Ideas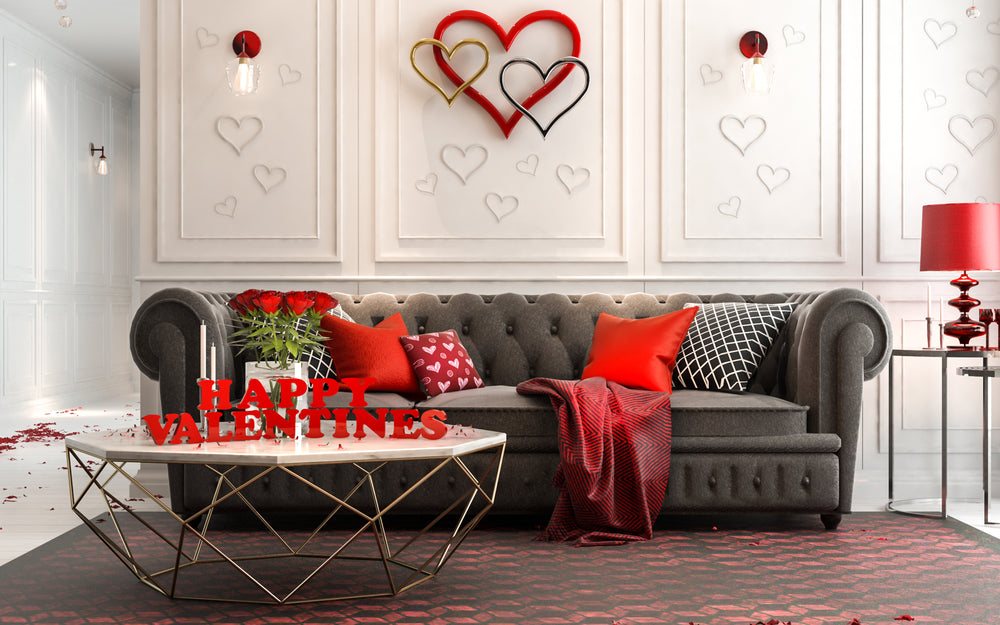 9 Fabulous Valentine's Day Decoration Ideas
Valentine's Day is one of those times of the year when we can express our love for that special person in our lives, family and friends. It doesn't have to be as expensive as decorating for Christmas or Thanksgiving, as there are many decorations you can make yourself. But if you are looking for a special idea to make your home look extra loving, here are some ideas you will love to try.
Flowers
Nothing says Valentine's Day more than flowers, and you can spend as much or as little as you like on flowers. If the budget is low, you can still demonstrate your love with a bouquet of freshly-gathered garden flowers displayed in a mason jar tied with a string or ribbon bow. If you're going to splurge on a display of gorgeous red roses, before you order those beautiful flowers, remember to have the right-sized vase to display them in, such as this Red Cut Glass Vase.
Candles
Candles are so symbolic, and we have them at all our special occasions. Use them on the table to give that romantic light to the meal. Buy candles in different finishes, such as gold, silver, red or traditional white.
You can easily find candle holders in your local thrift store, or why not invest in a beautiful candle holder for your table that you can use time and time again?
Tea Lights
Tea lights are a beautiful and simple way to decorate your home on Valentine's Day. Place them on your mantle, windowsills, or even in mason jars along the garden path to lead your special guest or guests to a Valentine's Day event. Buy specifically designed tea light holders to protect your surfaces. You can find tea light holders designed to hold many lights and at different levels, which look very effective.
Heart Banner
Get creative with bunting! Make garlands of hearts and hang them wherever you want to decorate your home and garden with love. Buy some red craft paper or fabric, and using a heart-shaped template, cut out hearts of all sizes and attach them to lengths of ribbon or string with a staple or a drop of glue.
Door Wreath
Door wreaths are not just for Christmas and Thanksgiving. Why not make one for Valentine's Day, too? Florists will be making these for Valentine's Day, but you could make your own, which would be so much more romantic. Shape a metal clothes hanger into a heart shape and then attach fresh or dried flowers and greenery to the heart frame using florist wire or tape. Attach a ribbon, tied in a bow, to the top of the wreath to hang from your front door. Wrap a small set of battery lights around the wreath to give it that extra romantic sparkle.
Balloons!
Balloons are not just for birthday parties. They are an inexpensive but impressive way to decorate your home on Valentine's Day. Buy balloons in shades of red, pink and white and decorate a corner of the room with strings of balloons for your valentine. Maybe you can find heart-shaped confetti-filled balloons to mix in, too.
Minimal Lighting
If your style is more contemporary or minimal, perhaps hearts, flowers, candy and balloons are bit too much for your particular style. Instead, why not swap out one spotlight bulb with a vibrant pink one and train this pink light across one feature wall to show a wonderful wash of pink? Perhaps you'll feature one single rose in a simple crystal flower vase, like this Sunfire Glass Vase.
Focal Point
Make your mantle the star of the show by hanging a romantic framed picture. Arrange a bowl of flowers in tones of pink, red and white. Some vintage silver candle holders with white candles and a sculpture, such as this Two In Love Cherub Figurine would complete this attractive display.
Past Valentine's
If you are a hopeless romantic and have collected cards from all your previous Valentine's Days, search those storage boxes for previous cards and arrange them on one wall. This wonderful idea will remind you and your loved one of all your Valentine's Days and loving memories, too.
Valentine's Day is that day of the year when we can visually display our love for that special person in our lives and our families, too. And it doesn't have to cost a lot of money because the time and effort you put into this display of love and affection will say it all to your loved ones.