35 Wonderful Rustic Bathroom Ideas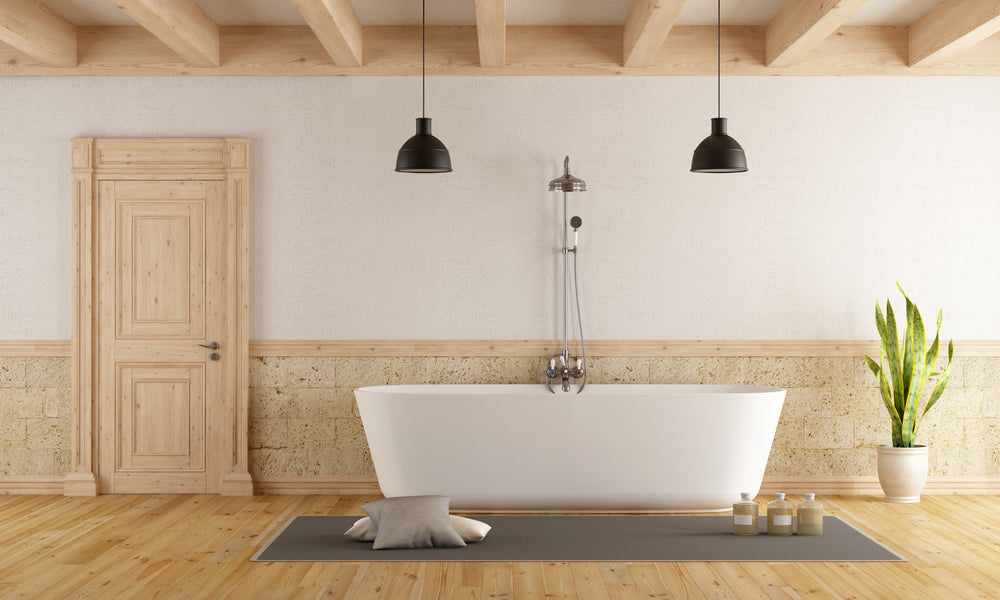 35 Wonderful Rustic Bathroom Ideas
Are you thinking of creating a rustic design in your bathroom and wondering how to create this style and what accessories you might need? The rustic interior design concept can transform your bathroom into a virtual haven of tranquility. By recreating this homely bathroom, you'll have a space where you can relax without any unnecessary 20th-century clutter. To help you out, we've found 35 ideas to recreate the rustic look.
One of the first things to consider with the rustic style is incorporating natural elements, such as:
1. Natural wood finishes for walls and floors.
2. Replacing plastic items with natural basketry and pottery containers.
3. Consider removing plaster from stone or brick walls and returning it to a natural sealed finish.
4. Replace manufactured bathroom cabinets with polished or painted wooden cabinets or display units, such as this Glass Barn Door Wall Shelf.
5. Use shelves for storage jars for sundry items such as cotton balls or other bathroom necessities.
6. The current trend is to replace doors with barn-style sliding doors. This is an easy fix that will transform your ordinary bathroom into a rustic one.
7. Consider using vintage-style fabrics such as gingham or flower-sprigged cotton to add a rustic feel to your bathroom.
8. Lay vintage wool rugs or handmade rag rugs on the floor.
9. Hang robes and white cotton towels from wooden shaker-style pegs.
10. Use shiplap to bring a rustic feel to your bathroom without having to totally redesign your bathroom walls. Finish with a light chalk paint wash to give a soft finish.
11. Windows can be dressed with either shutters or cotton curtains in gingham or floral designs for that rustic appeal.
12. Vintage cupboards offer ideal and attractive rustic storage options.
13. China kitchen storage jars.
14. Wicker baskets on shelves for simple storage of hand towels.
15. Galvanized iron containers and jugs to display fresh plants and flowers.
16. Find an old step ladder and clean it, then polish with beeswax and use in your bathroom to hang towels or display other objects.
With this rustic theme, you can also think about repurposing objects within your home. No need to match exactly; in fact, the more eclectic, the better with this style. Browse thrift shops or vintage fairs for:
17. Framed vintage pastoral pictures.
18. Retro china, such as soap dishes and shaving mugs.
19. Vintage lanterns such as this Galvanized Farmhouse Lantern are ideal used with white pillar candles for a relaxing bath night.
20. You may be lucky enough to find a roll of vintage wallpaper to decorate one wall of your rustic bathroom.
21. Bring a touch of the countryside into your bathroom décor with a simply arranged bunch of dried or fresh flowers displayed in a vintage milk jug.
22. Arrangements of dried or framed pressed flowers displayed on bathroom walls will give a rustic touch and bring to mind long, lazy summer days.
Another aspect of the rustic bathroom is its reliance on industrial themes, such as:
23. Vintage taps.
24. Electrical fittings with retro metal or glass shades.
25. Zinc worktops placed around porcelain butler sinks.
Lighting:
26. Place an assortment of pillar candles in your rustic bathroom to add a comforting atmosphere that you will be happy to relax in and use.
Plants:
27. Use ferns or other bathroom-loving plants to add a touch of greenery and the natural outdoors to your rustic bathroom.
Colors:
28. Choose a neutral color scheme and use it across woodwork and walls for a soft finish.
How to be resourceful
29. Search for items in your home that can be reused in your bathroom, such as a china or pottery mixing bowls and pitchers.
30. Instead of replacing tiles, regrout for a quick, inexpensive fix.
31. Source replicated stone tiles for bathroom floors and walls.
32. Have an antique enamel bath re-enameled to restore it to its previous glory.
33. Use thrift store furniture painted the same color as the walls for an easy, inexpensive bathroom fix.
34. Paint shabby-chic-inspired jars and plain glass jars for all types of bathroom storage.
35. Hang a large mirror to create a feeling of light and space.
The rustic bathroom décor style is an easy one to replicate and will be a relaxing addition to any home. You can repurpose many items to use in your rustic bathroom. Take some time to consider objects you may already have, or search for newly designed items that are inspired by this engaging style.