22 DIY Home Decor Projects For A Prettier Space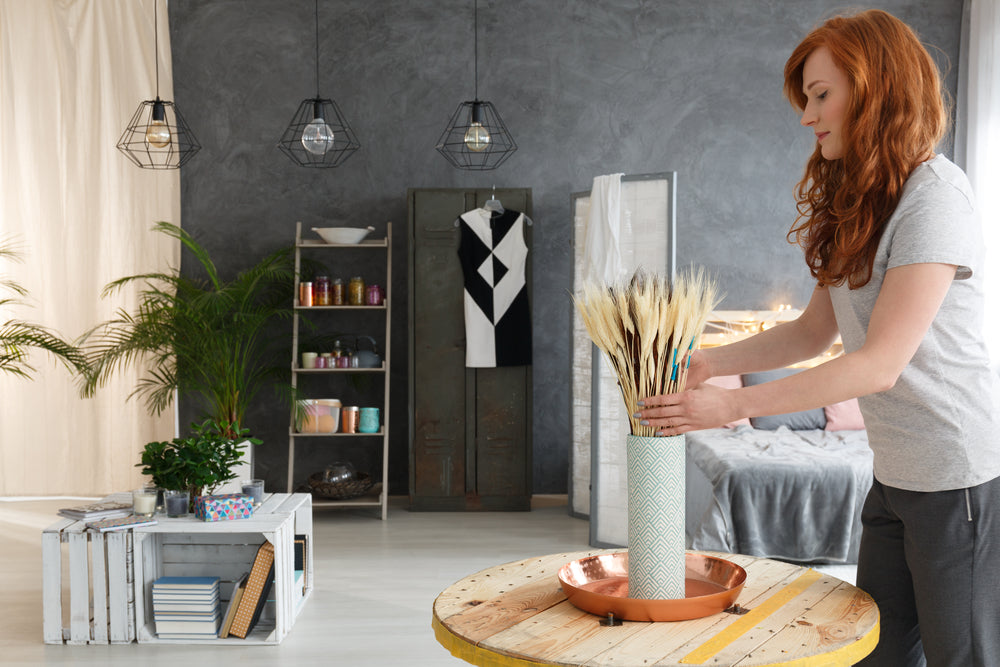 22 DIY Home Decor Projects For A Prettier Space
Home décor transformations do not have to be all about the big projects. Check out how to make your space prettier with very little effort!
1. Transferring images onto furniture
This revamps old furniture and personalizes your new pieces. It would look great on this Chalkboard Mirror With Barn Door as it's both unique and full of character. 
2. Tin can organizers
There's nothing pretty about cutlery on the kitchen counter, so use some old food cans to make attractive cutlery holders. All you need is paint and plenty of imagination.
3. Pretty wardrobe doors
Wardrobe doors can be very uninspiring, but you can make them a lot prettier using some ceiling medallions. They are very easy to apply and bring instant chic.
4. Recycled wood shelves
Recycled wood from pallets can be used to make upcycled shelves, which can then be used to display pretty candle holders, such as this Victorian Hurricane Lantern.
5. Rope signs
With just an old piece of rope, a glue gun and a plain wooden frame, you can create a personal and meaningful rope picture. It could be a freehand design or a word or name that means a lot to you.
6. Ladder shelves
A shelving unit made from a ladder is both pretty and practical! You simply attach the shelves across the spindles for space to display beautiful possessions, such as this Desert Angel Figurine.
7. Mason jars
Mason jars are too attractive to be confined to the kitchen. When you are done using them for food, fill them with small pebbles, shells, sand or bath crystals. Add a crystal knob to give them a glamorous edge!
8. Tiered trays
Using photo frames from the thrift store, you can make very pretty trays with multiple tiers using an old candlesticks to hold them together at the center. Finish them off with a little paint and even some glitter.
9. Mobiles
Mobiles are a fabulous way to bring movement, texture and life to your space. Hang them by a window or air vent to get the most out of them as the air currents move around. Create a wire frame and cut shapes from cardboard.
10. Paper orb light shade
Use paper cupcake molds fixed together with glue to create pretty orb light shades of all colors, sizes and designs. They let the light flood out.
11. Thumb tack art
With just a piece of foam (you could use old packaging), assorted thumb tacks and glue, you can create word art with character and depth for your home.
12. Mail organizer
Create a pretty place to store your mail from old pieces of furniture or shelves. Finish it off by adding some coat hooks, and it doubles up as storage for your jackets.
13. Feature walls
A boring wall can be transformed into a feature with leftover timber from constructions sites. Use a mixture of wide and narrow planks to give it additional character.
14. Half-painted prints
Tired of your old framed prints? Create bold color blocks over half of them to create intriguing art that catches the eye.
15. Rope banister
Banisters and hand rails don't have to be made from plastic or wood. You can fix thick rope to the wall using anchoring brackets and fray the ends to add more detail.
16. Pedestal
Add a touch of drama using a homemade pedestal. They can be constructed from a range of materials and painted any color.
17. Ladder for throws
Add some depth and texture to an empty space by draping colorful throws and blankets over an old ladder leaning against the wall.
18. Wallpaper furniture
Any furniture can be given a new lease on life with wallpaper. It simply needs to be sealed in place with some varnish.
19. Bookside table
Bookworms will love a side table made from a stack of matching hardbacks. Encyclopedias work best, and you'll find plenty of them in the thrift store.
20. Pom-pom trim
Freshen up any curtains or bedspreads with a pretty pom-pom trim. They are easy to attach and can be a matching or contrasting shade.
21. Pillow pocket
Use a pocket from an old pair of jeans to turn a cushion into a handy place to store a cell phone or a remote control.
22. Nesting bowl lamp shades
Sets of lattice nesting bowls make great lamps shades for the kitchen or dining room. Use spray paint to turn them into a shade that you like.