20 Great Décor Ideas on A Budget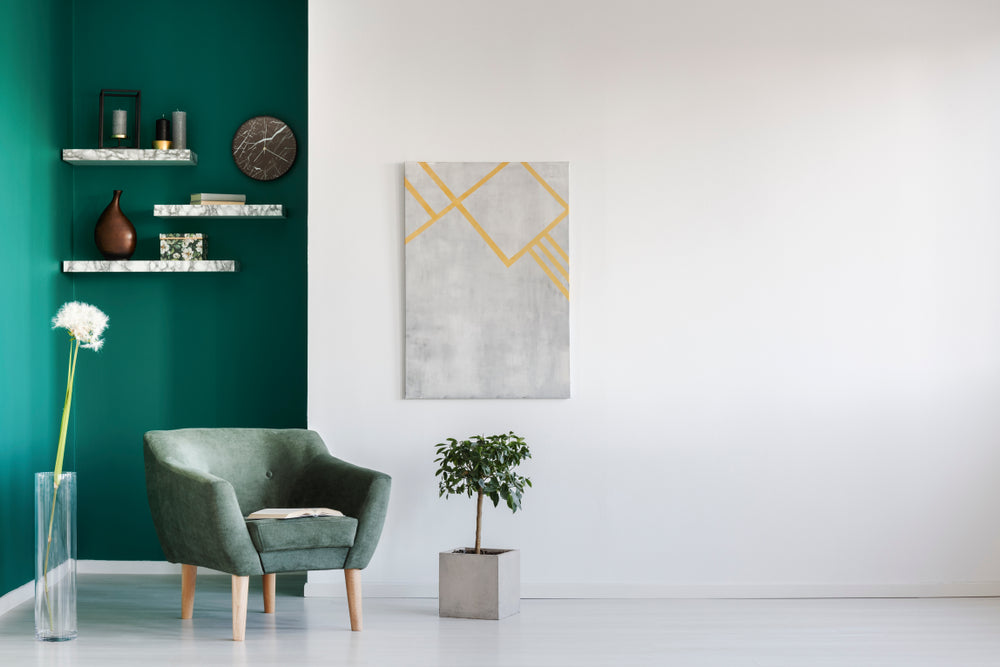 20 Great Décor Ideas on A Budget
If you want to create a fresh new look for your room on a budget, here are 20 great ideas to help you do just that.
Wall Color
If you want to change the appearance of a whole room quickly, repainting walls is a great way of doing so. A fresh coat of paint will liven up a room and cost very little money!
Furniture Color
With the help of a can of spray paint, you can totally transform wooden items such as chairs or drawers. You can create a smooth new look or go for a stressed vintage look. The choice is yours.
Get Crafty
With a little artistic talent, you can create crafts such as wall hangings or cushions that you can be proud of. These will look fantastic in your space.
Rearrange Furniture
This can make the room look totally different as it emphasizes different corners and spaces. This is a great way of creating a new look without having to spend any money at all.
Partition Shelving
If your room is used for two different purposes, such as a lounge and eating space, then partition shelving can be a great way to divide the two parts. You also create a walkway which can make your space look bigger, and you will have some handy extra shelving space, too.
Throws
Cover a sofa with a stylish new throw and the whole room changes. This is especially true if the throw is a different color or pattern from your sofa. You can even buy a throw to match the new color of your walls and furniture.
Cushions
Cushions can brighten up a room. Choose some with a bright color or a funky design. You can also go with a few that match each other to create a stunning overall effect without having to change or do too much to the room.
Bedding
A new duvet set can look stunning and help shift the focal point of the room, especially if you buy one in a totally fresh design. Arrange with matching pillows for a fantastic overall effect.
Rug
A new rug can feel soft and warm underfoot and makes a room look warmer. Go for a brightly colored rug but avoid too a heavy pattern because this can make a room look smaller.
Flooring
A new carpet might be a little out of your price range, but how about some vinyl flooring instead? This can look stunning in the bathroom or kitchen. Vinyl laminate effect flooring can look stylish in the living room, too.
Blinds or Curtains
Change the appearance and focus of your space by changing blinds or curtains. Curtains are best for a more traditional look to your room. Blinds look better if you are giving your room a modern makeover.
Mirrors
Carefully placed mirrors can make a room look a lot bigger. For a modern approach, go for a shaped mirror rather than a traditional rectangle or oval with a funky frame.
Lamps
Lamps can totally change the appearance of a room because they impact the lighting and ambience. A statement piece like the stunning Gray Crackle Glass Table Lamp can really transform your room.
Candles
Candles make a room look soft and romantic. A candle in the window can be very warm. Choose a scented one if you want to change the fragrance in your home, too.
Pictures
A picture can say a thousand words, and this is certainly the case in the home. You can choose anything from a traditional woodland scene to a modernist work of art.
Collages
To make your house look more welcoming, you could make a collage of you and your friends and family. This does not need to be expensive to create, and you will have the joy of seeing the people you love around you.
Flowers
Fresh flowers can give your room the appearance of spring. Pick these yourself and they don't have to cost you a penny.
Plants
There are some great indoor plants if you want to make your house look cozy. Water with care, and you will also have something to be proud of!
Kitchen and Bathroom Accessories
These are great if you want to add a splash of color to your room, such as bright salt and pepper shakers or a new, vibrant soap dish, and these touches are inexpensive.
Ornaments
Ornaments can add a totally new focal point to your room and can be brought cheaply in markets or online.