14 Spooky Halloween Decoration Ideas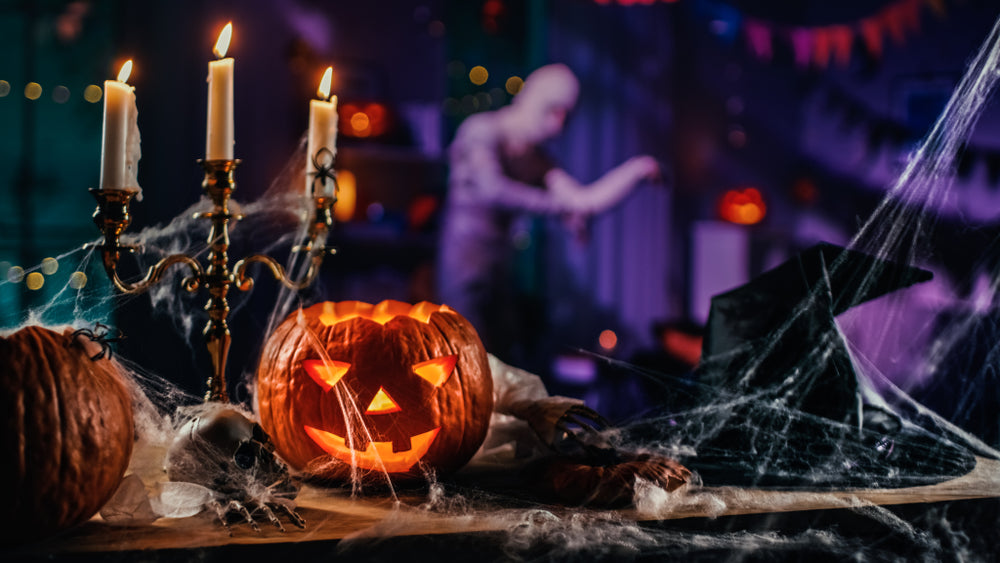 14 Spooky Halloween Decoration Ideas
Halloween is a popular holiday where you can really go to town on decorations to create that spooky Halloween atmosphere in your home. Halloween decorations come in all forms, from balloons and bunting to higher-quality decor for your home that you could keep and reuse year after year. We've found 14 different home decor ideas to give your home that really special Halloween feel.
Lighting
Lighting can be very effective in creating an atmosphere in a room. For Halloween, you want to have low lighting to create some spooky shadows and keep things mysterious. Instead of having your ceiling lights on, which can be too bright and stark, stick to candles or lamplight. This Medieval Triple Candle Stand, for example, would make the perfect centerpiece for your Halloween dinner table. It has the old-fashioned style that fits with Halloween. In fact, if you choose your accessories carefully and opt for a style like this, you could also get use out of it all year-round as it's not too Halloween-specific.
Dining Accessories
If you're hosting a party at Halloween or entertaining at all, you will want some dining accessories to really add to the theme. Enhance the kitchen or dining area with Halloween-themed serving platters, napkin rings or a Halloween wine bottle holder such as this Skeleton Wine Bottle Holder, all of which are useful while fitting in with the Halloween theme.
Skulls
When you think of Halloween, the first thing you'll probably think of is a skeleton or a skull as these are synonymous with the occasion. Combine a skull with a light to really show off the shadows and features on the skull and make it look even more sinister. This Skull With Lighted Orb, for example, will provide the perfect accessory to set your spooky scene.
Lanterns
If you want to invest in pieces that can be used all year-round rather than just at Halloween, you can't go wrong with a lantern. Candlelight, whether it is a standard tea light or an LED tea light, will help create the right kind of atmosphere in the room. A plain black lantern, such as this Starlight Candle Lantern, will fit in with all ghostly and ghoulish accessories to create some mood lighting, but its classic style and color will look good in your living room after Halloween, too.
Centerpiece
If you are planning a Halloween dinner, an ornate table centerpiece will really make a statement. This Midnight Elegance Candelabra, for example, will bring a sense of grandeur to the room. This style also looks elegant enough to use any time, not just at Halloween.
Wall lights
Another way of creating some atmospheric lighting is to use wall lights, which create a softer look to suit the occasion. This Gothic Candle Sconce, for example, would look fabulous as a Halloween decoration but can remain up after the Halloween celebrations are over.
Dragons and mythical beasts
You don't have to stick to ghosts, skeletons and witches at Halloween, although they may dominate most decorations. Think about some other fierce and mystical creatures, such as dragons, to create a mysterious and interesting Halloween scene. The dragons in these Dragon Book Ends, for example, would enhance any bookshelf.
Stimulate your senses
Stimulate all of your senses by burning some incense, perhaps something with a smoky or woody scent. Use something like this Skeleton Incense Holder to make it fit with the theme.
Goblets
If you're entertaining, using Halloween-style tableware such as a Royal Dragon Goblet will create a feature in the room.
Candles
If possible, use themed candle holders to really add extra interest with touches like this Triple Skull Candle Holder.
Wall decor
Halloween wall decor will really add an extra level to the scene. Objects such as this Skeleton Wall Decor Set are guaranteed to spook your guests.
Ornaments
Fans of fantasy and mystical items can use their ornaments and artifacts to create a magical atmosphere. This Skull Hand Waterball can be used as a paperweight, bookend, or ornament all year round.
Humor
Add some humor to your Halloween decor with something such as this See Hear Speak Skulls Trio, which recreates the famous Japanese "see no evil, hear no evil, speak no evil" proverb.
Tableware
If you serve drinks in a cup like this Stainless Steel Dragon Mug, your guests will feel like they are in a gothic banquet. It's little touches such as this that elevate the whole scene.