14 Lamps That Will Accentuate Your Living Room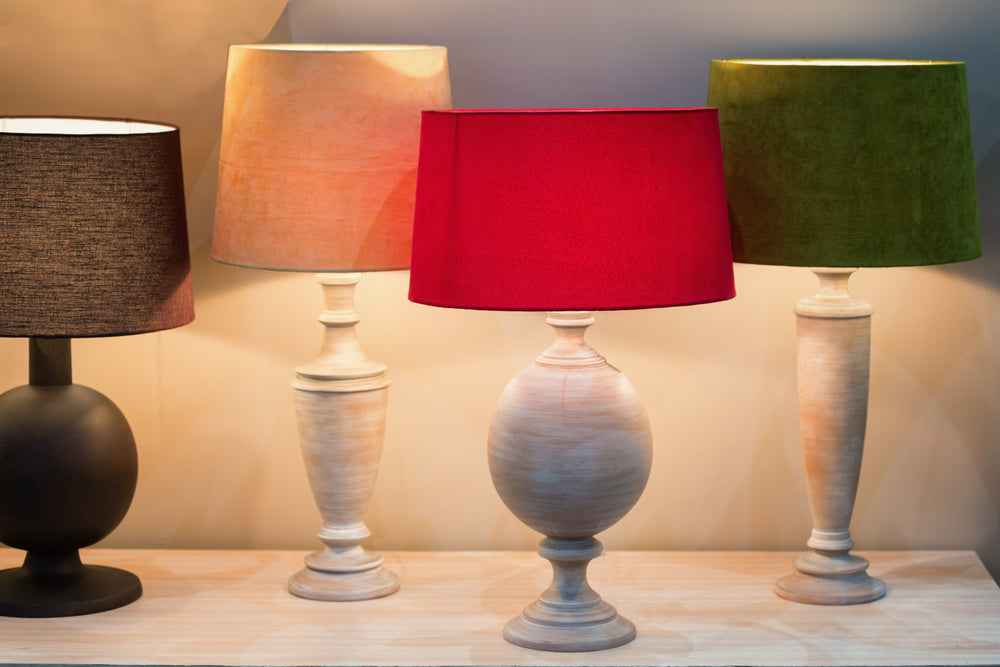 14 Lamps That Will Accentuate Your Living Room
One of the most important considerations when designing the interior of your home is the lighting. Lighting can set the mood and is particularly important in a living room. In addition to ceiling and wall lights, lamps can be strategically placed in a living room to enhance the atmosphere and highlight features of the room. Here are our recommendations for 14 different beautiful styles of lamp that will accentuate your living room perfectly.
Neutral style
A neutral-style lamp will fit into any decor and can accentuate any room, providing a warm and cozy atmosphere without dominating the space. The Fairfax Table Lamp is the perfect neutral-style lamp for a living room.
Antique finish
The beauty of an antique-style lamp such as the Antique Finished Table Lamp is that it will enhance a traditional interior design style but can also add a touch of classic elegance to a more modern interior.
Vintage style
If your home has a traditional style, a vintage-style lamp such as this Vintage Camping Lantern Table Lamp will suit the room perfectly and create a cozy and warm feel in the room.
Glass
A lamp with a glass base will really fit in any room, and the glass in a lamp such as the Gray Crackle Glass Table Lamp provides a great contrast when placed on a wooden surface such as a sideboard or side table. Meanwhile, the glass base will refract light beautifully.
Lantern style
Lantern lamps are available in lots of different styles, from ornate to industrial-looking. This White Fancy Lantern is a great example of an ornamental design, and the lantern really makes a change from a regular bulb with a lampshade to become a real feature.
Modern style
If your home has a contemporary interior, a modern lamp will fit with the look. The Sleek Modern White Table Lamp, for example, would complement any modern interior with its clean and elegant lines.
Globe lamp
Providing a brighter light than standard lamps, lamps with a globe rather than a fabric shade can be pretty plain in style or more on the quirky side, such as this Trumpeting Elephant Globe Lamp. This lamp will clearly be a talking point, so it's best placed in an area where it can take center stage and really be a feature of the room.
Tall
If you have an area you want to illuminate and accentuate, what better way than adding some height to the area with a tall lamp? A tall lamp like this White Honeycomb Table Lamp will look elegant in any room, but such a shape and style would look perfect in a corner, emphasizing the dimensions of the room.
Buddha
Many people believe that placing a Buddha statue in the home will attract positive energy, so a lamp such as this Buddha Table Lamp could provide atmospheric lighting and help set a relaxing mood and atmosphere in the room.
Classic blue and white
Blue and white is a classic color combination. It feels fresh and clean and looks timeless and elegant. Blue and white looks perfect with a beach style as well as modern and traditional decors. This White & Blue Splash Table Lamp is a great example of a blue and white lamp that will suit many styles of rooms.
Animal
There has been a huge surge in the popularity of animals in interior design in recent years, with cat and dog silhouettes featuring on patterned fabrics and artwork. We all adore our pets, so why not carry that through by choosing a lamp such as the Curious Cat Lamp? It will not only light up the room but provide an artistic focal point as well.
Abstract
An abstract lamp is just perfect for a modern interior. The texture and shapes on the base of this Abstract Curved Table Lamp add real interest to a living space.
Star
A star is such a classic design icon. From soft furnishings to ornate decorations, stars look stylish and timeless, and a lamp such as this Farmhouse Red Star Table Lamp would add a rustic charm to any style of interior.
Pineapple
Why not add a tropical elegance to your living room with a pineapple lamp? This all-white Pineapple Table Lamp, for example, has a gorgeous pineapple base that is both quirky and elegant.