14 Great Bird House Ideas To keep Your Garden Animal Friendly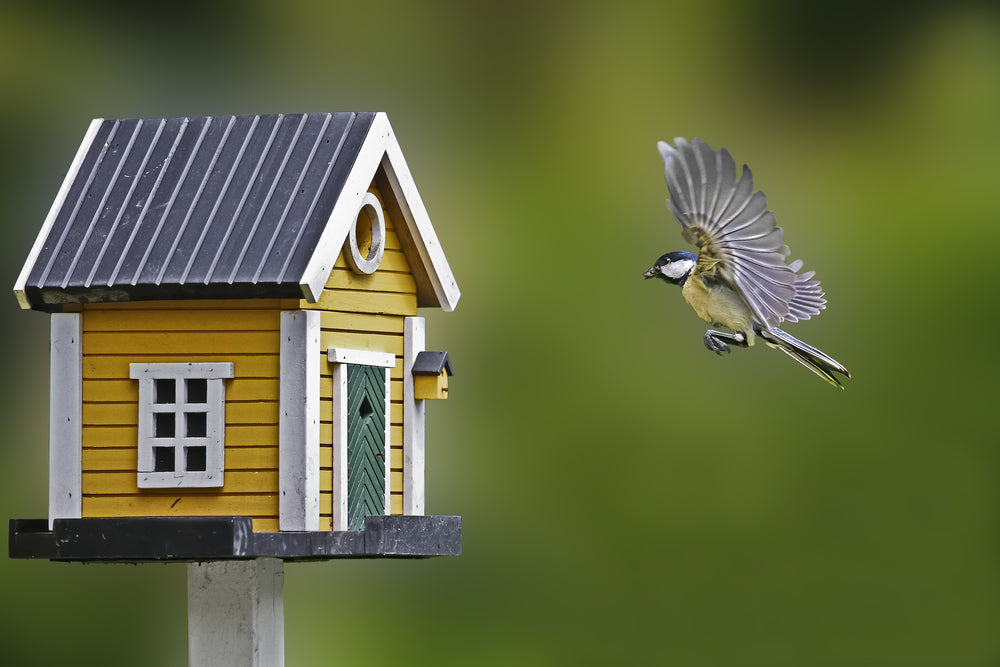 14 Great Bird House Ideas To keep Your Garden Animal Friendly
One of the best ways to make your garden animal-friendly is to encourage your feathered friends to spend time there. By providing a bird house, you can provide protection at the same time as creating a charming garden feature that is a pleasure to look at.
A bird house will help you to control pests because birds eat insects, which means you will need to use fewer pesticides. Because birds also eat weeds, you will have less work to do! The birds that are encouraged to your garden will help pollinate your flowers, but perhaps most of all, they are a gorgeous addition to your garden or yard design.
Of course, your choice of bird house is a matter for your personal taste, but here are a few gorgeous suggestions to get you started.
This is a cute birdhouse that looks just like a fishing cabin on the side of a lake. It has several circular openings to provide easy access for smaller birds. This bird house features loads of cute details including a ladder, a balcony and a moss roof.
Straight out of a fairytale book, this cottage-style bird house has an elongated rustic roof and a larger opening for medium-sized birds. There is frosting detail on the roof and even some window boxes full of flowers beneath the windows.
Bursting with adorable detail, the country store birdhouse would be a gorgeous addition to any garden or yard. Every tiny feature from the "Welcome" sign above the door to the baskets of vegetables on the veranda add to the rustic charm.
The Farmstead Birdhouse is a quirky and unusual home for the feathered friends in your garden. It features a tractor, wheat sheaves and wheelbarrow to give it a truly authentic rustic appeal.
You get birds and bears with this comfortable birdhouse that will suit medium-sized nesting birds and give them somewhere safe and comfortable to raise their family. It looks just like a bear's den!
Those who enjoy a nice glass of wine in the garden will love this Vintage Winery birdhouse. It has one circular opening at the top and bags of intricate detail, including a vine growing across the roof and a sign post with your favorite vintage marked on it!
Who doesn't love a cupcake, and who could not love this bakery birdhouse? Your feathered friends will gain access through the small opening. It's completed with adorable, sweet flowers and cake detail in bright colors.
Pink flamingos are one of the world's most beautiful birds, and they adorn this stunning green bird house that is full of character. There are fishing nets, oars and seashells to complete the look.
With this rustic birdhouse, you get a shelter for birds and a planter all in one. The medium-sized entrance will accommodate many breeds of birds, and it exudes rustic charm from its base to its roof.
The versatile round log birdhouse can either be hung up or freestanding. It would fit in well in a wooded area and looks as if it has been made from small logs. It's a charming and quaint addition to any garden.
You can show your love of birds with this heart-shaped birdhouse. It is made entirely from natural wood and would suit medium-sized birds, giving these lovely creatures somewhere safe to nest and hang out.
This Route 66 Biker Bar Birdhouse has all the character and quirky details that bike lovers will appreciate. It can be freestanding or hung in a tree and even has a table with some drinks outside.
This tall and elegant Ranger Station wooden birdhouse is exactly what the birds in your neighborhood have been looking for. It's made from wooden branches with gorgeous tree and ladder details.
The Moss Bird House shows off nature at her finest. The structure is made up of small pieces of wood and stands on a plinth. Between the wood, there are pieces of moss to give it a truly rustic effect.