14 Beautiful Wedding Décor Ideas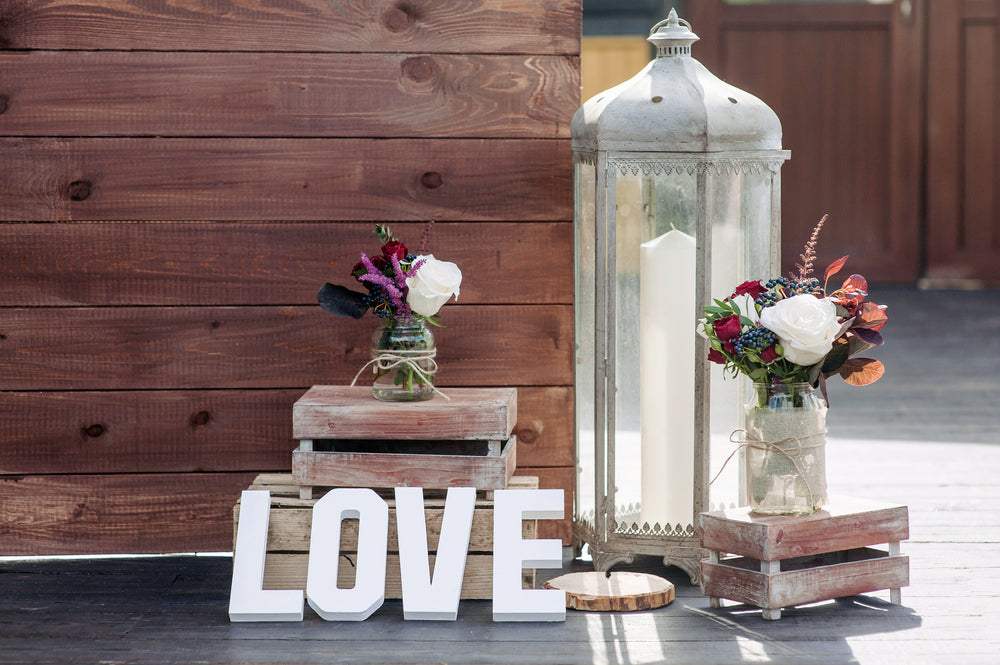 14 Beautiful Wedding Décor Ideas
Whether you're newly engaged and looking for some inspiration or are keen to put the final finishing flourishes to your wedding plan, here are just a handful of beautiful décor ideas that will ensure your wedding day is magical and memorable for all the right reasons.
1. Make Magic with Fairy Lights
Fairy lights can instantly transform an entire venue and create a magical atmosphere that will feel intimate and romantic. From illuminated trees to fairy light covered chandeliers, there are myriad ways to give your wedding day the glow it deserves.
2. Have Fun with Floral Arches
Intensely bold and extraordinarily photogenic, floral arches can add an element of natural beauty to your wedding. From verdant greenery to colorful blooms, floral arches can be tailored to your theme and personal taste with ease.
3. Create a Cozy Ambiance with Candles
Candles are both classic and timeless and will immediately help you create a gorgeous centerpiece to complement the theme of your wedding.
4. Arrange a Personalized Wall of Family Photographs
Collecting photographs from both sides of the family and displaying them on a wall is an excellent way to create a personalized feature that is certain to impress. A true celebration of love and connection, your guests will love looking at the story of your lives that led you to this memorable life event.
5. Get Creative with Chair Decorations
From elegant ribbons to unique floral garlands, decorating your guests' chairs is an additional detail that will make all the difference to the whole ambiance of your wedding.
6. Make Your Own Mirrored Signs
An ideal opportunity to make the most of your calligraphy skills, mirrored signs can be personalized to suit the theme of your big day. From ornately framed mirrors to simple silhouettes, mirrored signs can be used to communicate important messages to your guests or celebrate the joy of love and family.
7. Get a Gorgeous Glow with Lovely Table Lamps
Emitting a sophisticated glow, table lamps, such as this Antique Finished Table Lamp, can be used in place of candles to create a more modern and elegant atmosphere at every table. With styles to suit all tastes, this can be an excellent way to add another facet of your personality into your special day.
8. Make an Impression with Elegant Drapery
From sheer sparkling fabric to bold hues and everything in between, elegant drapery can add an additional touch of magic to your big day. Fabric can be interspersed with additional decorations or fairy lights to further add to the charm.
9. Give Walls a Floral Treatment
A step up from floral arches, a full floral wall can make an ideal photo background for both you and your guests. Whether you opt for bold colors or elegant neutrals, the natural beauty and texture of this unique feature is certain to be unforgettable.
10. Embrace the Elegance of Vintage
If you want to up the glamor stakes and lean into the beauty of vintage design, using colored glassware is an ideal way to create a tablescape that will be immediately impressive. From pastels to rich jewel tones, this is a beautiful concept that will work for a variety of weddings.
11. Why Not Add a Touch of Whimsy?
A few splashes of color here and there can add a sense of your personality into an otherwise supremely elegant wedding. There are a variety of ways to approach this, including using mismatched chairs, hanging colorful streamers or building a unique balloon arch.
12. Take Inspiration from Gorgeous Garden Parties
Ideal for spring and summer weddings, creating a beautiful tablescape and setting it within a beautiful outdoor location complete with elegant gazebos and bunting is certain to give you the intimate wedding day of your dreams. You could even place some elegant wind chimes, such as this Rainbow Butterfly Windchime, around your outdoor venue for an additional layer of ambiance.
13. Lean into the Lavishness of Jazz-Age Glamor
With sharp lines and geometric shapes, art deco style is always elegant and uniquely timeless. Ideal for couples who love a bit of glitz and glamor but in a way that never feels too opulent or over the top, introducing some sparkle and flashes of gold is an excellent way to lean into the luxuriousness that will ensure your wedding day is one to remember.
14. Lantern-Lit and Environmentally Friendly
From biodegradable confetti and potted plants in place of cut flowers, environmentally-friendly weddings can still be supremely beautiful. Skipping artificial lighting with lanterns, like this Large White Lantern, at every table will also minimize the overall energy consumption of your big day.