13 Cracking Easter Decoration Ideas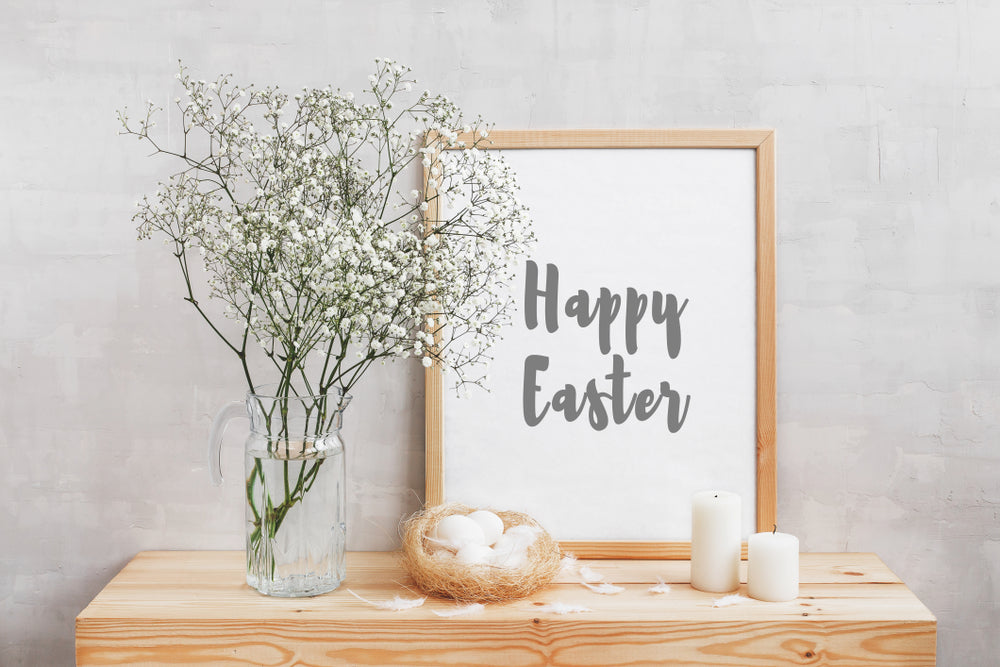 13 Cracking Easter Decoration Ideas
Decorating your home at Easter is an absolute joy. It is a time of hope and renewal and takes place as the seasons turn from spring to summer. To fill your home with a seasonal Easter vibe, check out these Easter Decoration ideas. There is something for every budget!
Use a Classic Renaissance Crucifix as an expression of faith and a reminder of the true meaning of Easter. It is just right for decorating a shelf or desk but is also suitable for a prayer table. It is made from materials that can withstand outdoor conditions if you want to place it in a garden. This adds an atmosphere of compassion and peace to your home.
2. Fresh Flower Wreath
Nature often produces beauty far better than mankind, so why not make a wreath for your home out of fresh flowers and foliage? Choose simple colors, such as whites and pale yellow, and combine them with the deep green shades of evergreen plants. This would look stunning on your front door or veranda.
An elegant and spiritual ornament of an angel that doubles up as a solar-powered light will take on a warm and atmospheric glow. In addition to being a lovely decoration, this serene and calming piece will bring gentle light without using any electricity. An ornament in subtle shades is perfect for celebrating Easter in your home.
4. Easter Trees
Homemade Easter trees are fast becoming the latest Easter decoration trend. They are fun and easy to make and look highly effective. All you need is a heavy-duty vase with some strong twigs in it. Then, boil some hens' eggs and let them cool before decorating them with brightly colored paints and glitter.
Combining the symbolism of the cross and the words of a much-loved hymn, the Crown Of Thorns Nail Cross is a striking Easter decoration that would bring beauty and grace to your home. The durable materials could also be used in your garden or yard.
6. Homemade Easter Bunny Door Decoration
Door decorations are becoming more and more popular, but you don't have to spend a fortune. You can make your own from some spare fabric and simply cut out a silhouette of a rabbit in a contrasting color and glue or stitch it in place. Finish it off with a cute pom-pom for a tail.
What is Easter without the Easter bunny? A cute little bunny figurine just like the Bunny Hugging Carrot Garden Figurine will cheer up any garden, even on a gloomy day. This cute little all-weather decoration will make both adults and kids smile every time they pass it.
8. Easter Dining Table Centerpiece
Having friends or family over for a get-together at the Easter weekend? If so, you need a stunning Easter centerpiece for your dining table. Create your own using a tray or large plate, some moss, some candles and a few mini jars of chocolate eggs.
Easter is all about filling your home with beautiful things so you can marvel at the beauty of nature. This is a great time to invest in some new plants, and you need some cheerful plant pots, like This Garden Butterfly Teacup Planter to display them in.
10. Vintage Easter Egg Decoration
The vintage look is popular right now, so why not use this theme in your Easter decorations? All you have to do is take a vintage tray or plate and cover it with fresh foliage, then decorate some hard-boiled eggs with temporary vintage tattoos for an authentic vintage vibe.
If there is one color that is associated with Easter, it's yellow, so it's time to adorn your home with stunning yellow accessories like the Vintage Hannah Yellow Mirror. It will bounce all of the spring sunlight around your home and brighten things up.
12. Flora Chandelier
Introduce some laid-back vibes with an informal flower arrangement hanging from the ceiling! Create a look from old wire and hang sprigs of fresh spring blooms. It's simple yet effective.
To fill your home with Easter style and elegance, you can't go wrong with a simple figurine like this Desert Angel Figurine. It has an understated simplicity and spirituality that introduces serenity and calm to your home at this special time of year.