10 Creative Ways To Create Space In Your Bedroom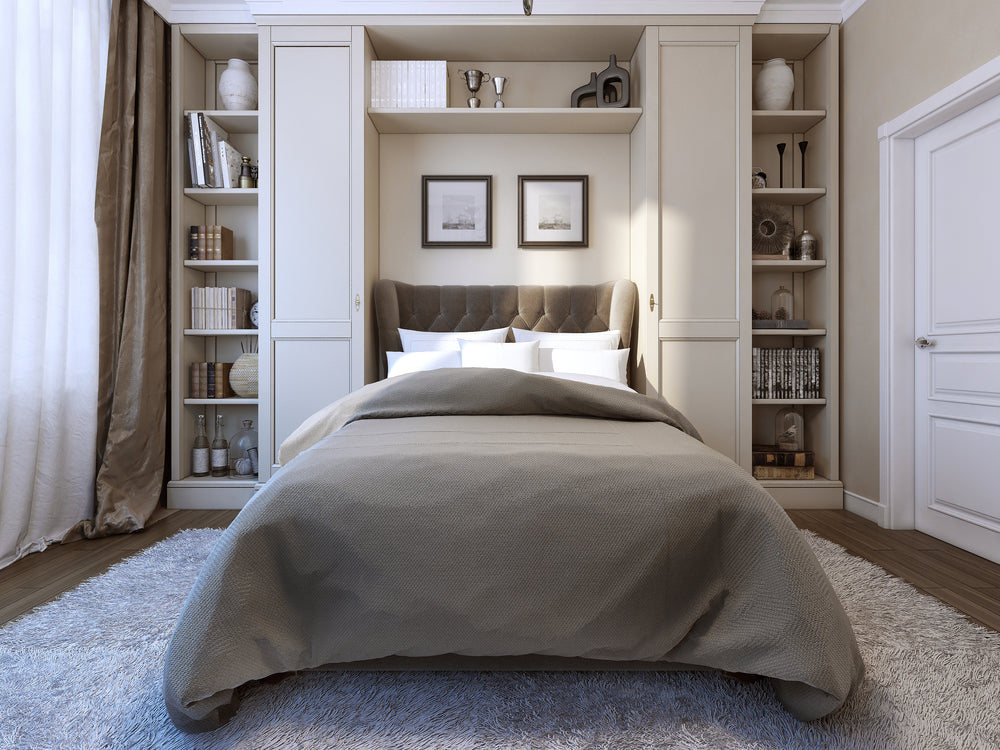 10 Creative Ways To Create Space In Your Bedroom
For a wonderfully relaxing night, it is often said that having a clear and ordered space will help you drift off for a peaceful sleep. But if you are not careful, your bedroom can quickly turn into a disorganized, unloved area of the house, especially if the room is small. Bring some order back to your bedroom with these 10 creative ways to create that extra space.
Color
Using color is one of the easiest ways to give the illusion of more space, and lighter tones work very well. Even if the room is on the small size, pale, neutral colors will make it appear more spacious. Choose another color as an accessory to add a pop of interest in the room. You can find this accessory color in a favorite framed print or rug, then use it for scatter cushions on the bed or picture frames.
Clever Storage
The key to creating an organized space in your bedroom is to invest in hidden storage. This can be as expensive or as thrifty as you like. Fitted cupboards across one wall with interior shelving will take care of most of your storage needs, but if you don't have the finance for this yet, you can improvise by placing a curtain rail across a shorter wall and hanging long, plain drapes. Place bookshelves, a clothes rail and baskets, such as this Iron Basket Set for all your storage needs. 
Under-The-Bed Storage
Instead of a home for odd socks and lost sneakers, use that space under your bed to create some extra storage. Buy some handy under-the-bed storage boxes on wheels. Make sure to measure the space between the floor and the bed before you buy so you can get a box with the right height. Designate a storage box for each item - for example, shoes, bags, bed linen, or winter hats and scarves.
Bedside Cabinets
Bedside cabinets look pretty in interior design magazines, but they can take up a great deal of floor space. You can create the same effect by fixing hanging shelving, like this Industrial Style Wall Shelf, next your bed for your bedside light, clock or phone.
Bunk Beds
These are perfect for creating extra space in a children's bedroom. The key is to decorate the room in neutral tones. Paint the beds to match and use simple bed linens in the same color tone. This will make the beds almost "disappear" against the wall, giving the illusion of a larger space. This leaves more floor space for children to relax and play.
Clever Storage Beds
These well-designed beds use hidden storage, such as an ottoman lift, which is easily accessible and perfect for storing additional bed linen or out-of-season clothing. Some beds incorporate fitted sliding drawers, too.
Shelving
Arrange some built-in shelving along one wall. Paint the shelves the same color as the wall and use storage boxes or baskets in a similar color to keep small items of clothing or other items. Fix a shelf above your bed for books, plants and an attractive bedside lamp, such as this Owl Lamp.
Minimal Design
Consider a more minimal design for your bedroom. You may like lots of decorations, for example, but are they making your bedroom look overcrowded and leaving you without a place for more important things? Choose two or three objects that you really like, and if you can't bear to part with the rest, store them away for a time when you will have more room to display them.
Declutter
Make extra space in your bedroom by having a serious declutter. Arrange in four boxes: keep, throw away, seasonal and donate. Clothing items that are not needed for the season can be stored away, leaving room for more seasonal items to be kept handy and worn. Clothes that are too small or really out of style can be donated to a thrift shop.
Bedroom Door
Finally, don't forget the back of your bedroom door. There are hanging storage panels designed for the back of doors. You can use these useful hanging cupboards to store items ranging from cosmetics and toiletries to shoes, hats and scarves.
As you can see, there are many ways to create extra space in your bedroom, from fitted cupboards and clever under-the-bed storage to disguising furniture to blend into the walls. Whichever method you choose to create that extra space in your bedroom, you will be pleased with the result and may even finally get a blissful night's sleep!